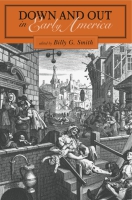 Down and Out in Early America
Copyright: 2004
Dimensions: 6.125 x 9.25
Page Count: 352 pages
Illustrations: 7 illustrations/2 maps
Hardcover ISBN: 978-0-271-02316-8
Paperback ISBN: 978-0-271-02317-5
"Billy Smith brings together an impressive group of scholars who examine poverty in a wide range of settings. The resulting essays are remarkable not only for their inclusiveness but also for the way they give a truly human face to the poor. Down and Out in Early America is an important contribution to the scholarship on early America."
"These essays portend a new, exciting stage in poverty and poor relief studies."
It has often been said that early America was the "best poor man's country in the world." After all, wasn't there an abundance of land and a scarcity of laborers? The law of supply and demand would seem to dictate that most early American working people enjoyed high wages and a decent material standard of living. Down and Out in Early America presents the evidence for poverty versus plenty and concludes that financial insecurity was a widespread problem that plagued many early Americans.
The fact is that in early America only an extremely thin margin separated those who required assistance from those who were able to secure independently the necessities of life. The reasons for this were many: seasonal and cyclical unemployment, inadequate wages, health problems (including mental illness), alcoholism, a large pool of migrants, low pay for women, abandoned families. The situation was made worse by the inability of many communities to provide help for the poor except to incarcerate them in workhouses and almshouses.
The essays in this volume explore the lives and strategies of people who struggled with destitution, evaluate the changing forms of poor relief, and examine the political, religious, gender, and racial aspects of poverty in early North America. Down and Out in Early America features a distinguished lineup of historians. In the first chapter, Gary B. Nash surveys the scholarship on poverty in early America and concludes that historians have failed to appreciate the numerous factors that generated widespread indigence. Philip D. Morgan examines poverty among slaves while Jean R. Soderlund looks at the experience of Native Americans in New Jersey. In the other essays, Monique Bourque, Ruth Wallis Herndon, Tom Humphrey, Susan E. Klepp, John E. Murray, Simon Newman, J. Richard Olivas, and Karin Wulf look at the conditions of poverty across regions, making this the most complete and comprehensive work of its kind.
Contents
Acknowledgments
Introduction: "The Best Poor Man's Country?"
Billy G. Smith
1. Poverty and Politics in Early American History
Gary B. Nash
Part I:: Lives of the Poor
2. Dead Bodies: Poverty and Death in Early National Philadelphia
Simon Newman
3. Malthusian Miseries and the Working Poor in Philadelphia, 1780–1830: Gender and Infant Mortality
Susan E. Klepp
4. Slaves and Poverty
Philip D. Morgan
Part II: Poor Relief
5. "Who Died an Expence to This Town": Poor Relief in Eighteenth-Century Rhode Island
Ruth Wallis Herndon
6. Gender and the Political Economy of Poor Relief in Colonial Philadelphia
Karin Wulf
7. Poor Relief "Without Violating the Rights of Humanity": Almshouse Administration in the Philadelphia Region, 1790–1860
Monique Bourque
8. Bound by Charity: The Abandoned Children of Late Eighteenth-Century Charleston
John E. Murray
Part III: Politics, Religion, and the Creation of Poverty
9. Poverty and Politics in the Hudson River Valley
Thomas Humphrey
10. "God Helps Those Who Help Themselves": Religious Explanations of Poverty in Colonial Massachusetts, 1630–1776
J. Richard Olivas
11. The Delaware Indians and Poverty in Colonial New Jersey
Jean R. Soderlund
Contributors
Index
Other Ways to Acquire
Buy from Amazon.com

Buy from an Independent Bookstore
Buy from Powell's Books
Buy from Barnes and Noble.com
Find in a Library
Get the
Google Play Edition
Join
Sign up for e-mail notifications about new books and catalogs!
Related Subjects