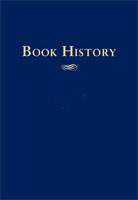 Book History, vol. 6
Copyright: 2003
Dimensions: 6 x 9
Page Count: 320 pages
Illustrations: 10 b&w illustrations
Hardcover ISBN: 978-0-271-02330-4
---
Book History is the annual journal of the Society for the History of Authorship, Reading and Publishing, Inc. (SHARP).
Book History is devoted to every aspect of the history of the book, broadly defined as the history of the creation, dissemination, and the reception of script and print. Book History publishes research on the social, economic, and cultural history of authorship, editing, printing, the book arts, publishing, the book trade, periodicals, newspapers, ephemera, copyright, censorship, literary agents, libraries, literary criticism, canon formation, literacy, literacy education, reading habits, and reader response.
Contents
1. Eighteenth-Century British Circulating Libraries and Cultural Book History,
Edward Jacobs
2. An Uncertain "Coming of the Book": Early Print Cultures in Colonial India,
Anindita Ghosh
3. Reading with a Tender Rapture: Reveries of a Bachelor and the Rhetoric of Detached Intimacy, Lisa Spiro
4. "Jack's as Good as His Master": Scots and Print Culture in New Zealand, 1860–1900, David Finkelstein
5. Japan and the Internationalization of the Serial Fiction Market,
Graham Law and Norimasa Morita
6. Robbery Under Arms: The Colonial Market, Imperial Publishers, and the Demise of the Three-Decker Novel, Paul Eggert
7. Early Talking Books: Spoken Recordings and Recitation Anthologies, 1880–1920, Jason Camlot
8. A Publisher's Reader on the Verge of Modernity: The Case of Frank Swinnerton, Andrew Nash
9. Who Owns the Means of Cultural Production? The Soviet Yiddish Publishing Industry of the 1920s, David Schneer
10. Selling the Great Tradition: Resistance and Conformity in the Publishing Practices of F. R. Leavis, Ross Alloway
11. The Neo-Classics: (Re)Publishing the "Great Books" in the United States in the 1990s, Rebecca Rego
12. The State of the Discipline: The Politics of Print: The Historiography of the Book in Early Spanish America, Hortensia Calvo
Contributors
Other Ways to Acquire
Buy from Amazon.com

Buy from an Independent Bookstore
Buy from Powell's Books
Buy from Barnes and Noble.com
Find in a Library
Join
Sign up for e-mail notifications about new books and catalogs!
Related Subjects