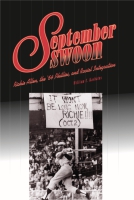 September Swoon
Richie Allen, the '64 Phillies, and Racial Integration
Copyright: 2004
Dimensions: 6 x 9
Page Count: 280 pages
Illustrations: 35 b&w illustrations
Hardcover ISBN: 978-0-271-02333-5
Paperback ISBN: 978-0-271-02742-5
Series Name: Keystone Books®
Hardcover Edition: $38.95
Paperback Edition: $27.95
Winner, 2005 Dave Moore Award presented by Elysian Fields Quarterly
"September Swoon captures the drama of the 1964 pennant race while shedding much light on the problems the Phillies faced with the racial integration that centered on talented rookie Richie Allen. Any Phillies fan will enjoy reading Kashatus's interesting book."
"September Swoon, by Bill Kashatus, is a great book chronicling the losing streak and the era. It will be released next month by Pennsylvania State University Press. This is a must-read for Phils' fans. . . . Don't miss September Swoon. It's an excellent book."
"September Swoon: Richie Allen, the '64 Phillies, and Racial Integration by William C. Kashatus is important because it not only chronicles how the Phillies disintegrated, but also looks at the racial tension surrounding the Phillies star rookie, Richie Allen."
"Allen's 1989 autobiography, Crash, was a toned-down version of what happened to him. In Kashatus's book, Allen now reveals the hatred he faced both in Little Rock, Ark.—where he was the first professional black player in the state's history—and in Philadelphia, where fans threw trash on his lawn. . . . Kashatus did impressive research, interviewing most of Allen's teammates during that era. But he also faced the challenge of putting it in proper context. . . . [T]his is a notable book about a notable man in a notable time and place."
"[Kashatus's] credentials matter because as a historical work on the issues of race, the Phillies and Allen, Swoon is illuminating. . . . As to the baseball, fans know what happened. The strength of this book is that it gives us insight into why."
"But the book is more than a torturous account of that fateful team. It represents a personalized portrait of Dick Allen, the recalcitrant slugger wielding a 40-ounce bat, who earned National League Rookie of the Year honors in 1964 after hitting .318 with 29 home runs and 91 RBIs. It traces the roots of the organization's racism to what Kashatus describes as 'the shameful story of race relations in Philadelphia's baseball past' to the painful process of integration during the 1950s and early 1960s, on to Allen, a power-hitting shortstop who was rewarded with a $70,000 bonus—the most ever paid to a black ballplayer at the time."
"If you were a baseball fan in the 1960s, you'll never forget the Philadelphia Phillies' famous collapse at the end of the season. They were leading the National League by 6 1/2 games with 12 left to play and had a magic number of seven, but they lost 10 straight and ended the season a game behind St. Louis. You can relieve it by reading September Swoon: Richie Allen, the '64 Phillies, and Racial Integration by William C. Kashatus. . . . If you are a Philadelphia fan, you might not want to read it. It might be too painful to relive it all because Kashatus did his research with a capital R. . . . The 1964 season will never be forgotten by Phillies fans and most baseball fans and an excellent way to relive it is by reading the book."
"[H]is narrowly defined thesis makes September Swoon a winner for those who read to learn. Tapping into a rich vein for social introspection, the author successfully builds a case for how changes in America at large changed our seemingly timeless National Pastime."
"There are also dozens of previously untold backstage stories, including an incredibly moving tale of a blind girl befriended by catcher Clay Dalrymple. What sets September Swoon apart from previous '64 books is an earnest attempt by Kashatus to craft a parallel narrative about the seismic shifts that were occurring simultaneously in Philadelphia's sociological landscape. Political figures and civil rights activists carry equal weight with the heroes of Connie Mack Stadium. At the center of everything is Richie Allen, the Phillies' first true African-American superstar. . . . September Swoon follows the remaining path of Allen's career, a path that ironically ends up in Philadelphia many years later. How he went from Philadelphia pariah to a beloved Quaker City sports icon is, in its own way, as compelling a story as the team's tragic collapse of 1964."
"It was this 1964 summer that the Philadelphia Phillies, who played in a stadium not far from the site of the riot, were contending for the pennant, after years of mediocrity. It was the year that Richie Allen, their muscular rookie third baseman, would become the team's first black superstar. It is the story of Philadelphia in the summer of 1964, of this particular Philadelphia team, of this particular player, Richie Allen, that William C. Kashatus tells so richly and compellingly in September Swoon. My only surprise is that no one told this story sooner."
"This is a marvelous little book about a sliver of time in baseball's history. . . . Kashatus deals with the baseball issues with a seasoned journalist's eye and with the racial ramifications with a historian's sensibility (he is both a journalist and a professional historian). Smart baseball fans will want to read this book, though Phillies fans will probably cringe throughout, at both the failings of the team on the field and its even more substantial shortcomings on the question of race. Historians of modern America, race, and urban life will also find much of use in this relatively brief and largely successful treatment of September Swoon and its underlying ramifications."
"I thoroughly liked his narrative and rate this book as an excellent read."
"For followers of the Phillies and hardcore baseball fans, this is a recommended book. Mr. Kashatus is a capable writer who has done a good job of documenting the story of that infamous season."
Everything seemed to be going the Phillies' way. Up by 6 1/2 games with just 12 left to play in the 1964 season, they appeared to have clinched their first pennant in more than a decade. Outfielder Johnny Callison narrowly missed being the National League MVP. Third baseman Richie Allen was Rookie of the Year. But the "Fightin' Phils" didn't make it to the postseason—they lost 10 straight and finished a game behind the St. Louis Cardinals. Besides engineering the greatest collapse of any team in major league baseball history, the '64 Phillies had another, more important distinction: they were Philadelphia's first truly integrated baseball team. In September Swoon William Kashatus tells the dramatic story—both on the field and off the field—of the Phillies' bittersweet season of 1964.
More than any other team in Philadelphia's sports history, the '64 Phillies saddled the city with a reputation for being a "loser." Even when victory seemed assured, Philadelphia found a way to lose. Unfortunately, the collapse, dubbed the "September swoon," was the beginning of a self-destructive skid in both team play and racial integration, for the very things that made the players unique threatened to tear the team apart. An antagonistic press and contentious fans blamed Richie Allen, the Phillies' first black superstar, for the team's losing ways, accusing him of dividing the team along racial lines. Allen manipulated the resulting controversy in the hopes that he would be traded, but in the process he managed to further fray already tenuous race relations.
Based on personal interviews, player biographies, and newspaper accounts, September Swoon brings to life a season and a team that got so many Philadelphians, both black and white, to care deeply and passionately about the game at a turbulent period in the city's—and our nation's—history. The hometown fans reveled in their triumphs and cried in their defeat, because they saw in them a reflection of themselves. The '64 Phillies not only won over the loyalties of a racially divided city, but gave Philadelphians a reason to dream—of a pennant, of a contender, and of a City of Brotherly Love.
Contents
Foreword by Gerald Early
Acknowledgments
Introduction
1. A Shameful Past
2. Integrating the Phillies
3. The Spring of '64
4. On Top of the National League
5. September Swoon
6. Seasons of Frustration
7. Breakup
Conclusion
Appendixes
A. What Happened to the 1964 Phillies
B. Individual Statistics for the 1964 Phillies
C. The 1964 National League Race
Notes
Selected Bibliography
Other Ways to Acquire
Buy from Amazon.com

Buy from an Independent Bookstore
Buy from Powell's Books
Buy from Barnes and Noble.com
Find in a Library
Get the
Kobo Edition
Get the
Kindle Edition
Get the
iBook Edition
Join
Sign up for e-mail notifications about new books and catalogs!
Related Subjects
Also of Interest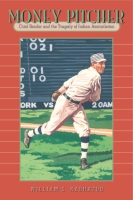 Chief Bender and the Tragedy of Indian Assimilation