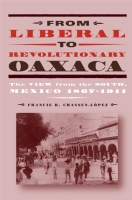 From Liberal to Revolutionary Oaxaca
The View from the South, Mexico 1867–1911
Copyright: 2004
Dimensions: 6.125 x 9.25
Page Count: 624 pages
Illustrations: 12 illustrations/5 maps
Hardcover ISBN: 978-0-271-02370-0
Paperback ISBN: 978-0-271-02512-4
Winner of the 2004 Thomas McGann Prize for the Best Book on Latin America from the Rocky Mountain Council on Latin American Studies
"This is a critical, seminal work on Mexican history. The author argues that we need to rethink Mexican history through an analysis of the indigenous South that has previously been portrayed as backward and reactionary. The book is an encyclopedic overview of a key period in Oaxaca history; it is without peer for the 19th century. One of the greatest strengths of the book is its debunking of myths and poorly documented claims that permeate writing about Oaxaca."
"Professor Chassen-López has rewritten the history of Oaxaca, Mexico, from the mid-nineteenth century through the onset of the Mexican Revolution in 1911. She illuminates almost every nook and cranny of this geographically, ethnically, and economically diverse state. The book represents many years of remarkable excavations in local, state, and national archives. No other regional history of any other Mexican state exhibits this thorough a survey of sources. The book is encyclopedic in its coverage. Virtually no aspect of politics and economics during the forty-four years under study goes unexplored. The book is at its best in its depiction of the 'Worlds of the Indigenous.' Chassen-Lopez realistically depicts village life. Her analysis of indigenous resistance to the encroachments of centralization and economic and cultural modernization is particularly insightful."
"Scholars from the field of Mexican and Latin American studies should not overlook this book."
"This volume makes a major contribution to the analysis of liberalism in Mexico."
"The book demonstrates the author's intellectual formation in material and cultural history, and in subaltern and gender studies, and is fully supported by an impressive range of archival research and a thorough knowledge of secondary sources. When these are combined with an abiding and infectious passion for the subject matter, the result is a powerful and remarkably comprehensive study that will be an essential reference on the subject for many years to come."
"Francie Chassen-López has given us an engrossing and engagingly written book, the result of long, personal experience of Oaxaca and a great deal of meditation on her subject. This combination of firsthand knowledge and historical research is evident throughout the work. . . . The author repeatedly links Oaxaca to other Mexican states by means of apt comparisons and contrasts, and takes the reader through a number of rewarding bibliographical discussions of differing points of view positioned throughout her text."
"This stunning regional history, by a scholar who has dedicated more than two decades to the study of Oaxaca, is one of the most thorough and well-documented revisions of centralist historiography."
From Liberal to Revolutionary Oaxaca aims at finally setting Mexican history free of stereotypes about the southern state of Oaxaca, long portrayed as a traditional and backward society resistant to the forces of modernization and marginal to the Revolution. Chassen-López challenges this view of Oaxaca as a negative mirror image of modern Mexico, presenting in its place a much more complex reality. Her analysis of the confrontations between Mexican liberals' modernizing projects and Oaxacan society, especially indigenous communal villages, reveals not only conflicts but also growing linkages and dependencies. She portrays them as engaging with and transforming each other in an ongoing process of contestation, negotiation, and compromise.
Contents
List of Tables and Maps
Acknowledgments
Introduction
Part I: Infrastructure and Economics
1. A Thousand Whistles
2. From Time Immemorial to the Porfirian Finca: The Dilemma of Land Tenure
3. The Commercialization of Agriculture
4. The Promoter s Paradise: Mining, Industry, and Commerce
Part II: Society: Class, Ethnicity, and Gender
5. Society: Decent and Otherwise
6. Indigenous Usos y Costumbres and State Formation
7. The Indigenous Peoples of Oaxaca: Negotiating Modernity
Part III: Political Culture and Revolution
8. Liberal Politics: the Dual Legacy
9. Porfirian Politics: A Científico Governor
10. Precursor Politics
11. Revolution in the South
Conclusions
Bibliography
Index
Other Ways to Acquire
Buy from Amazon.com

Buy from an Independent Bookstore
Buy from Powell's Books
Buy from Barnes and Noble.com
Get a License to Reuse
Find in a Library
Get the
Google Play Edition
Join
Sign up for e-mail notifications about new books and catalogs!
Related Subjects
Also of Interest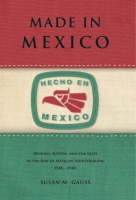 Regions, Nation, and the State in the Rise of Mexican Industrialism, 1920s–1940s
This book is a part of the Association of American University Presses'
Books for Understanding: Mexico
book list, created to help all of us better understand the world we live in.
Knowledge, Not just information