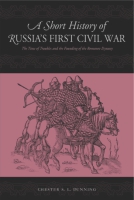 A Short History of Russia's First Civil War
The Time of Troubles and the Founding of the Romanov Dynasty
Copyright: 2004
Dimensions: 6.125 x 9.25
Page Count: 352 pages
Illustrations: 9 b&w illustrations/
Paperback ISBN: 978-0-271-02465-3
Paperback Edition: $26.95
"Dunning's new book is a historical tour de force, a major reconceptualization of Russia's Time of Troubles, 1598–1613."
"This is clearly the best and most judicious account of the Time of Troubles in any language. A magnificent achievement that will significantly benefit the reading world, especially those interested in Russia and comparative civil disorders."
"We can thank Chester S. L. Dunning for explaining, much more than anyone before him, why and how this stunning reversal of fortunes occurred."
"Dunning's book on Russia's First Civil War is a highly detailed, readable account of a turbulent time in Russian history that has relevancy even today as Russia continues to struggle with its infant democracy."
Upon publication in 2001, Russia's First Civil War by Chester Dunning was greeted by scholars as a "historical tour de force," the first major post-Marxist reassessment of the Time of Troubles. Now available in an abridged paperback, A Short History of Russia's First Civil War is ideally suited for classroom use.
CONTENTS
List of Illustrations and Maps
Introduction
1. A Comparative Approach to the Problem of Origins of the Civil War
2. Long-Term Origins: The Growth of Autocracy and Imperialism
3. Ivan the Terrible and Russia's Slide into Crisis
4. The Rise of Boris Godunov, the Uglich Tragedy, and Enserfment
5. The Southern Frontier and the Cossacks
6. The Beginning of the Time of Troubles and the Great Famine
7. What Triggered the civil War?
8. The Pretender Dmitrii Ivanovich
9. Dmitrii's Invasion and the Beginning of the Civil War
10. Tsar Boris Strikes Back and the Civil War Widens
11. The Death of Tsar Boris and Dmitrii's Triumph
12. The Short Reign of Tsar Dmitrii
13. Assassination of the Tsar
14. Vasilii Shuiskii Seizes Power and Rekindles the Civil War
15. The Beginning of the "Bolotnikov Rebellion"
16. The Civil War Widens and the Rebels Advance to Moscow
17. The Siege of Moscow
18. Retreat from Moscow, the Siege of Kaluga, and the Rise of Tsarevich Petr
19. Collapse of the Siege of Kaluga and the Beginning of Tsar Vasilii's Offensive
20 The Siege of Tula and the Resurrection of "Tsar Dmitrii"
21. Tsar Vasilii's Struggle Against the Tushino Impostor
22. Foreign Intervention and the Formation of the National Liberation Movement
23. The End of the Civil War and the Election of Mikhail Romanov
24. Tsar Mikhail and the End of the Time of Troubles
25. Disturbing Legacy
Index
Other Ways to Acquire
Buy from Amazon.com

Buy from an Independent Bookstore
Buy from Powell's Books
Buy from Barnes and Noble.com
Find in a Library
Join
Sign up for e-mail notifications about new books and catalogs!
Related Subjects