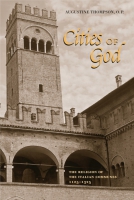 Cities of God
The Religion of the Italian Communes, 1125–1325
Copyright: 2005
Dimensions: 6 x 9
Page Count: 520 pages
Illustrations: 61 b&w illustrations
Hardcover ISBN: 978-0-271-02477-6
Paperback ISBN: 978-0-271-02909-2
Paperback Edition: $35.95
Winner of the 2005 Howard R. Marraro Prize Awarded by the American Catholic Historical association
"Using a wealth of evidence drawn from civic and ecclesiastical statues, tithe lists, saints' lives, art, and architecture, Thompson reminds us that the urban environment was densely packed with expressions of orthodox religion. . . . This book is a stunning achievement. Not only is it a masterful study of the Italian church and lay religion, it calls into question prevailing views of communal society and challenges us to rethink the way we apply terms like 'secular' and 'religious' to medieval society."
"This brilliant, innovative, challenging, and often surprising book lays out every conceivable aspect of the religious lives of citizens of the medieval Italian commune. It is also a fascinating exposition of the unexpected ways in which civic communes of central and northern Italy from the late twelfth to the early fourteenth century were indeed Cities of God."
"Augustine Thompson's immensely scholarly work has enormous implications for our understanding of the western political legacy. He has successfully shown that the most democratic, the most participatory strand in the Italian civic republican legacy was a specifically Catholic one that was not at all neopagan nor secular in the modern sense. This demonstration should further disturb our lingering tendency to narrate the story of the last one thousand years as one in which forces of 'progress' gradually banish the gothic shadows."
"Augustine Thompson's Cities of God provides a valuable overview of the religious lives of ordinary lay people in the towns of northern Italy during the central Middle Ages."
We know much about the Italian city states—the "communes"—of the twelfth and thirteenth centuries. But historians have focused on their political accomplishments to the exclusion of their religious life, going so far as to call them "purely secular contrivances." When religion is considered, the subjects are usually saints, heretics, theologians, and religious leaders, thereby ignoring the vast majority of those who lived in the communes. In Cities of God, Augustine Thompson gives a voice to the forgotten majority—orthodox lay people and those who ministered to them.
Thompson positions the Italian republics in sacred space and time. He maps their religious geography as it was expressed through political and voluntary associations, ecclesiastical and civil structures, common ritual life, lay saints, and miracle-working shrines. He takes the reader through the rituals and celebrations of the communal year, the people's corporate and private experience of God, and the "liturgy" of death and remembrance. In the process he challenges a host of stereotypes about "orthodox" medieval religion, the Italian city-states, and the role of new religious movements in the world of Francis of Assisi, Thomas Aquinas, and Dante.
Cities of God is bold, revisionist history in the tradition of Eamon Duffy's Stripping of the Altars. Drawing on a wide repertoire of ecclesiastical and secular sources, from city statutes and chronicles to saints' lives and architecture, Thompson recaptures the religious origins and texture of the Italian republics and allows their inhabitants a spiritual voice that we have never heard before.
Contents
Abbreviations
Note on Style
Acknowledgments
Introduction
Part I La Citade Sancta: Sacred Geography
1. The Mother Church
2. From Conversion to Community
3. The Holy City
4. Ordering Families, Neighborhoods, and Cities
5. Holy Persons and Holy Places
Part II Buoni Cattolici: Religious Observance
6. The City Worships
7. Feasting, Fasting, and Doing Penance
8. Resurrection and Renewal
9. Good Catholics at Prayer
10. World Without End. Amen.
Epilogue: Communal Piety and the Mendicants
Bibliography
Index