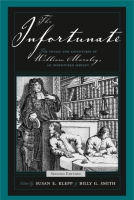 The Infortunate
The Voyage and Adventures of William Moraley, an Indentured Servant
Copyright: 2005
Dimensions: 6 x 9
Page Count: 208 pages
Illustrations: 17 b&w illustrations/
Paperback ISBN: 978-0-271-02676-3
Second Edition
Paperback Edition: $21.95
---
First published by Penn State Press in 1992, The Infortunate has become a staple for teachers and students of American history. William Moraley's firsthand account of bound servitude provides a rare glimpse of life among the lower classes in England and the American colonies during the eighteenth century. In the decade since its original publication, Susan Klepp and Billy Smith have unearthed new information on Moraley's life, both before his ill-fated venture as an indentured servant from England to the "American Plantations" and after his return to England. This revised edition features this additional information while presenting the autobiography in a new way, offering more explicit emphasis for students and teachers in college, university, and high school about how to read and interpret Moraley's autobiography.
CONTENTS
List of Illustrations ix
Editors' Preface to the Second Edition xi
Editors' Preface to the First Edition xiii
Abbreviations xvi
Editors' Introduction xvii
THE INFORTUNATE: OR, THE VOYAGE AND ADVENTURES OF WILLIAM MORALEY
The Preface 3
1. Moraley and his family. The Infortunate learns Latin and
arithmetic. Bound to an attorney. Becomes a watchmaker. The South Sea Bubble. His mother settles in Newcastle. Reduced to poverty. Sells himself for a term of years into the American
plantations. Before the Lord Mayor of London. Repenting too late.
Calling at Calais. A recognition. 5
2. The story of Sir George Sonds's two sons. 21
3. Life on board ship. Stinted rations. Dolphins and flying fish. Land at last. In the market. Sold as a slave. "A Quaker, but a Wet one." "The Athens of Mankind." Germantown. 23
4. The fortunate Andalousian. 37
5. Burlington. Churches and missionaries. Quaker meetings. The Mayor of Philadelphia. Rescuing a lady. An exchange of wit. A Negro's ghost. The Delaware River. Perriwig Island. An enormous skeleton. Antediluvian remains. 41
6. Plantations in Pennsylvania. Indian corn. "The best poor Man's Country in the World." Wild beasts. Rattle snakes. Horn snakes. Humming birds. Locusts. Butterflies. The Negroes. Slave laws. Bought servants. 51
7. The Indians in Pennsylvania. Their habits, manners, and religion. Colonial currency. The Governor and his Council. The family of William Penn. Charity of the Quakers. Drinks. Fish and fruit. The climate. "The Tennis-ball of Fortune." 63
8. End of servitude in Pennsylvania. "A roving Tarter." Courting adventure. Trent Town and Burlington. Encounter with a panther. Detained for a runaway. Journey to New York. An Indian king. The Governor of New York. Pursued by creditors. 73
9. The Valentian; or, faithful Lover 81
10. Departure from New York. Ducking witches at Mount Holly.
Loading ship. Journey to Maryland. Encounter with a horn snake. Assists a mother and two children. Danger from creditors. Sets sail for Ireland. The man with three wives. 87
11. Voyage to Ireland. Dublin Harbour. Arrives at Workington. "The picture of Robinson Crusoe." "A Grave Quaker." Merry making. Nether Hall. A tankard of supernaculum. Mr. Senhouse's
pleasantries. Crosby. 95
12. Sir Richard Musgrave. Haltwhistle. Belated in a fell. Corbridge,
Wylam, etc. Arrives in Newcastle. 101
Postscript: The author's case, recommended to the Gentlemen of the
law. 105
Editors' Afterword 109
Appendixes
A. The Book and Its Author 121
B. Moraley Genealogy 123
C. The Wills of William Moraley's Parents 125
D. Moraley as a Literary Artisan 131
E. Newcastle, England 135
F. Isaac Pearson's Servants 137
G. The Ghost in Isaac Pearson's Home 139
H. The Witchcraft Trial at Mount Holly 141
Index