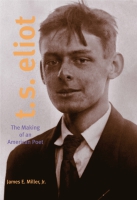 T. S. Eliot
The Making of an American Poet, 1888–1922
Copyright: 2005
Dimensions: 6 x 9
Page Count: 488 pages
Hardcover ISBN: 978-0-271-02681-7
Paperback ISBN: 978-0-271-02762-3
"Given the importance of James E. Miller's previous work on Eliot for understanding the erotic energies driving his poetry, T.S. Eliot: The Making of an American Poet is an especially welcome event. This biography represents the culmination of decades of research and will be indispensable reading for Eliot scholars."
"For a figure as elusive as Eliot, whose runic remains no two readers interpret the same way, this makes for a valuable compendium—a kind of do-it-yourself portrait kit."
"Filled with revelations, assumptions, and recommendations for further research, T.S. Eliot: The Making of an American Poet, three parts meticulous research and one part speculation, is both weighty and intuitive. Easy to access, logically organized, scrupulously referenced, and index-friendly, Miller's book is a satisfying treat for Eliot scholars who enjoy a coffee spoon of gossip with their literary research."
Late in his life T. S. Eliot, when asked if his poetry belonged in the tradition of American literature, replied: "I'd say that my poetry has obviously more in common with my distinguished contemporaries in America than with anything written in my generation in England. That I'm sure of. . . . In its sources, in its emotional springs, it comes from America." In T. S. Eliot: The Making of an American Poet, James Miller offers the first sustained account of Eliot's early years, showing that the emotional springs of his poetry did indeed come from America.
Miller challenges long-held assumptions about Eliot's poetry and his life. Eliot himself always maintained that his poems were not based on personal experience, and thus should not be read as personal poems. But Miller convincingly combines a reading of the early work with careful analysis of surviving early correspondence, accounts from Eliot's friends and acquaintances, and new scholarship that delves into Eliot's Harvard years. Ultimately, Miller demonstrates that Eliot's poetry is filled with reflections of his personal experiences: his relationships with family, friends, and wives; his sexuality; his intellectual and social development; his influences.
Publication of T. S. Eliot: The Making of an American Poet marks a milestone in Eliot scholarship. At last we have a balanced portrait of the poet and the man, one that takes seriously his American roots. In the process, we gain a fuller appreciation for some of the best-loved poetry of the twentieth century.
Contents
Preface
A Note on Sources
Introduction
Part 1. 1888–1906: Origins
1. Eliot's St. Louis and "The Head of the Family" ;
2. Sons and Lovers: Sex and Satan;
3. A Frail Youth, a Bookish Boy;
4. Early Landscapes, Later Poems
Part 2. 1902–1914: Early Influences
1. Eliot at Fourteen: Atheistical, Despairing, Gloomy;
2. Poetic Beginnings: Merry Friars and Pleading Lovers;
3. Missourian, New Englander: Double Identity;
4. A Soul's Paralysis: "Denying the Importunity of the Blood"
Part 3. 1906–1911: Harvard: Out from Under
1. Prologue: A Problematic Student;
2. Bohemian Boston at the Turn of the Century;
3. Bohemian Harvard and Isabella Stewart Gardner ("Mrs. Jack");
4. A Fellow Poet: Conrad Aiken;
5. "A Very Gay Companion": Harold Peters;
6. Practicing to Be a Poet: From Omar's Atheism to Laforgue's Masks;
7. Poems Written 1906–1910
Part 4. 1906–1910: Harvard Influences: Teachers, Texts, Temptations
Teachers: 1. Irving Babbitt: Human Imperfectability;
2. Barrett Wendell: The Inexperience of America;
3. George Santayana: Philosopher of Reason;
4. William Allan Neilson: Poetic Theorist; Texts:
5. Dante and Eliot's "Persistent Concern with Sex";
6. Petronius's Satyricon: A "Serene Unmorality";
7. Symons/Laforgue: The Ironic Mask;
8. Havelock Ellis, "Sexual Inversion";
9. John Donne: Thought as Experience; Temptations:
10. The Lure of Europe: Brooks's The Wine of the Puritans;
11. "T. S. Eliot, the Quintessence of Harvard"
Part 5. 1910–1911: T. S. Eliot in Paris
1. The Primacy of Paris, 1910–1911;
2. Jean Verdenal: "Mon Meilleur Ami";
3. Matthew Prichard: A Blurred Portrait;
4. Henri Bergson: A Brief Conversion;
5. Charles Maurras: The Action Française;
6. Finding the Personal in the Poem: Drafts of "Portrait" and "Prufrock";
7. Poems Written 1911–1914
Part 6. 1911–1914: Eliot Absorbed in Philosophical Studies
1. Prologue: The Rise of Harvard's Philosophy Department and the Santayana Controversy;
2. The Decline and Fall of Harvard Philosophy in Eliot's Day and After;
3. Eliot and Oriental Philosophies and Religions;
4. Psychology as Philosophical, Religion as Psychological, Mysticism as Magical;
5. Eliot and the Elusive Absolute;
6. Epilogue: The Eliot Controversy,
Part 7. 1914–1915: American Chaos versus English Tradition
1. Philosophy in Marburg, War in Europe;
2. London Interlude: Pound and Russell;
3. Oxford, 1914–1915: Reconsidering Philosophy;
4. New Friends and Old: Culpin, Blanshard, Pound, Lewis;
5. The Mystery of Emily Hale: "The Aspern Papers in Reverse"
Part 8. 1915: An Inexplicable Marriage and the Consequences
1. A Sudden Marriage at the Registry Office;
2. Who Was Vivien?;
3. A Flurry of Correspondence, a Day of Decision;
4. An Unhappy Visit Home (Gloucester, July 24–September 4), a Disastrous Honeymoon (Eastbourne, September 4–10);
5. "Bertie" Russell's "Friendship";
6. "What I Want Is MONEY!$!£;!! We are hard up! War!";
7. Hallucinations, Heavenly and Hellish Poetic Visions: "St. Sebastian" and "St. Narcissus";
8. Poems Written 1914–1915
Part 9. 1916: Making Do, Finding Means, Expanding Connections
1. "The Most Awful Nightmare of Anxiety"; "Pegasus in Harness";
2. The Triumph of Poetry over Philosophy;
3. Reviews and Essays, Teaching and Lecturing: Total Immersion;
4. A Widening Circle of Friends and Associates, Writers and Artists
Part 10. 1917–1918: T. S. Eliot: Banker, Lecturer, Editor, Poet, Almost Soldier
1. Eliot the Banker: March 19, 1917–November 1925;
2. Eliot the Extension Lecturer;
3. Eliot as Eeldrop;
4. Eliot the Assistant Editor: June 1917–December 1919, ;
5. Eliot the Poet, ;
6. America Enters War: April 6, 1917–Armistice Day, November 11, 1918;
7. "Writing . . . Again": The French and Quatrain Poems;
8. Poems Written 1917–1918
Part 11. 1919–1920: Up the Ladder, Glimpsing the Top
1. Death of a Father;
2. Banking, Teaching, Editing, Writing: Money and Power;
3. Friendships and Relationships: Deeper and Wider;
4. A Voice from the Past; "An Encounter of Titans"; Moving Again;
5. Three New Books: Poetry and Prose;
6. "Gerontion": Return of Fitzgerald's Omar;
7. Poems Written 1918–1920
Part 12. 1919–1921: Notable Achievements, Domestic Disasters, Intimate Friends
1. Prologue: Paris and the Pension Casaubon, Paris Again in the Spring;
2. "A Long Poem . . . on my Mind for a Long Time";
3. A Family Visit: Mother, Brother, Sister—Wife;
4. A Room of One's Own, Wearing Makeup, Confidante Virginia Woolf;
5. Roommates, "Renowned Pederasts": Kitchin, Senhouse, Ritchie
Part 13. 1922: Over the Top
1. "The Uranian Muse," The Waste Land, and "il miglior fabbro";
2. Publication of The Waste Land;
3. "Out into the World": The Waste Land Reviewed;
4. Pound's Financial Scheme for Eliot: "Bel Esprit";
5. Birth of The Criterion
Part 14. A Glance Ahead: The Making of an American Poet
1. T. S. Eliot and Walt Whitman;
2. An American Poet Discovers His American-ness
References to Works by T. S. Eliot
References to Works by Other Authors
Index
Other Ways to Acquire
Buy from Amazon.com

Buy from an Independent Bookstore
Buy from Powell's Books
Buy from Barnes and Noble.com
Find in a Library
Get the
Kindle Edition
Get the
Google Play Edition
Join
Sign up for e-mail notifications about new books and catalogs!
Related Subjects
Also of Interest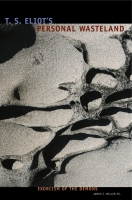 Exorcism of the Demons