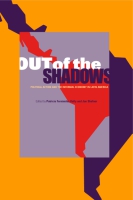 Out of the Shadows
Political Action and the Informal Economy in Latin America
Copyright: 2006
Dimensions: 6 x 9
Page Count: 288 pages
Hardcover ISBN: 978-0-271-02750-0
Paperback ISBN: 978-0-271-02751-7
"With few exceptions, scholars from Left to Right have presented simplistic accounts of the political ramifications of economic informality in the underdeveloped world. Such depictions have been curiously out of sync with the salutary influence of the 'bringing the state back in' scholarship of the last couple of decades or so. This volume makes a crucial contribution to the scholarly and policy literatures by emphasizing the embeddedness of informal economies in state-society arrangements that cut across local, national, and transnational terrains of the Latin American and global political economies. The volume represents essential reading for scholars, policy specialists, students, and others who seek to make sense of the politico-social consequences of deepening inequality and poverty in the contemporary world."
"On the whole, the contributions to Out of the Shadows are persuasively argued and provide excellent empirical material on grassroots informal activities across Latin America."
"Out of the Shadows should be a central reference for those interested in the grassroots reality of neoliberalism and democracy, and its chapter by Centeno and Portes should be read by anyone interested in Latin American economies."
Since the beginning of scholarly writing about the informal economy in the mid-1970s, the debate has evolved from addressing survival strategies of the poor to considering the implications for national development and the global economy. Simultaneously, research on informal politics has ranged from neighborhood clientelism to contentious social movements basing their claims on a variety of social identities in their quest for social justice.
Despite related empirical and theoretical concerns, these research traditions have seldom engaged in dialogue with one another. Out of the Shadows brings leading scholars of the informal economy and informal politics together to address how globalization has influenced local efforts to resolve political and economic needs—and how these seemingly separate issues are indeed deeply related.
In addition to the editors, contributors are Javier Auyero, Miguel Angel Centeno, Sylvia Chant, Robert Gay, Mercedes González de la Rocha, José Itzigsohn, Alejandro Portes, and Juan Manuel Ramírez Sáiz.
Contents
Acknowledgments
Introduction
Patricia Fernández-Kelly
1. The Informal Economy in the Shadow of the State
Miguel Angel Centeno and Alejandro Portes
2. Risk and Regulation in Informal and Illegal Markets
John C. Cross and Sergio Peña
3. Neoliberalism, Markets, and Informal Grassroots Economies
José Itzigsohn
4. Vanishing Assets: Cumulative Disadvantages Among the Urban Poor
Mercedes González de la Rocha
5. Female Household Headship, Privation and Power: Challenging the "Feminization of Poverty" Thesis
Sylvia Chant
6. Protest in Contemporary Argentina: A Contentious Repertoire in the Making
Javier Auyero
7. The Even More Difficult Transition from Clientelism to Citizenship: Lessons from Brazil
Robert Gay
8. Informal Politics in the Mexican Democratic Transition: The Case of the People's Urban Movement
Juan Manuel Ramírez Sáis
9. "Do You Think Democracy Is a Magical Thing?"—From Basic Needs to Democratization in Informal Politics
Jon Shefner
References
Index
Other Ways to Acquire
Buy from Amazon.com

Buy from an Independent Bookstore
Buy from Powell's Books
Buy from Barnes and Noble.com
Get a License to Reuse
Find in a Library
Get the
Google Play Edition
Join
Sign up for e-mail notifications about new books and catalogs!
Related Subjects