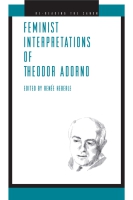 Feminist Interpretations of Theodor Adorno
Copyright: 2006
Dimensions: 6 x 9
Page Count: 376 pages
Illustrations: 3 illustrations
Hardcover ISBN: 978-0-271-02879-8
Paperback ISBN: 978-0-271-02880-4
Series Name: Re-Reading the Canon
Paperback Edition: $51.95
Website Sale Price: $12.99, You save 75% Add to Cart
"The essays are uniformly excellent and show exciting possibilities for Adorno's relevance to feminism."
"The most successful of the fifteen essays in this volume use the insights of feminism to reread crucial Adornian works . . . to rethink critical terms within these works, such as mimesis, suffering, identity, and aesthetic autonomy. The variety of contributors—political theorists, philosophers, literary and legal scholars—ensures that the re-readings presented here are not monolithic."
Adorno is often left out of the "canon" of influences on contemporary feminist theory, but these essays show that his work can provide valuable material for feminist thinking about a wide range of issues.
Theodor Adorno was a leading scholar of the Institute for Social Research in Frankfurt, Germany, otherwise known as the Frankfurt School. With Max Horkheimer he contributed to the advance of critical theorizing about Enlightenment philosophy and modernity. Inflected by Kant, Marx, Nietzsche, and Freud, Adorno's thinking defies easy categorization. Ranging across the disciplines of philosophy, musicology, and sociology, his work has had an impact in many fields. His Dialectic of Enlightenment (written with Max Horkheimer) was profoundly influential as a critique of fascistic and authoritarian impulses in Enlightenment thinking in the context of late capitalism.
Questions addressed in the volume range from dilemmas in feminist aesthetic theory to the politics of suffering and democratic theory. The essays are exemplary as works in interdisciplinary scholarship, covering a wide range of issues and ideas in feminism as authors critically interpret the many facets of Adorno's work. They take Adorno's historical situatedness as a scholar into consideration while exploring the relevance of his ideas for post-Enlightenment feminist theory. His philosophical and cultural investigations inspire reconsideration of Enlightenment principles as well as a rethinking of "postmodern" ideas about identity and the self.
Feminist Interpretations of Theodor Adorno will introduce feminists to Adorno's work and Adorno scholars to modes of feminist critique. It will be especially valuable for senior undergraduate and graduate courses in contemporary political, social, and cultural theory. In addition to the editor, contributors are Paul Apostolidis, Mary Caputi, Rebecca Comay, Jennifer Eagan, Mary Ann Franks, Eva Geulen, Sora Han, Andrew Hewitt, Gillian Howie, Lisa Yun Lee, Bruce Martin, and Lambert Zuidervaart.
Contents
Preface by Nancy Tuana
Acknowledgments
1. Introduction: Feminism and Negative Dialectics
Renée Heberle
2. An Interview with Drucilla Cornell
Questions by Renée Heberle
3. Adorno's Siren Song
Rebecca Comay
4. A Feminine Dialectic of Enlightenment? Horkheimer and Adorno Revisited
Andrew Hewitt
5. "No Happiness Without Fetishism": Minima Moralia as Ars Amandi
Eva Geulen
6. The Bared-Breasts Incident
Lisa Yun Lee
7. Mimetic Moments: Adorno and Ecofeminism
D. Bruce Martin
8. Intersectional Sensibility and the Shudder
Sora Y. Han
9. An-aesthetic Theory: Adorno, Sexuality, and Memory
Mary Ann Franks
10. Living with Negative Dialectics: Feminism and the Politics of Suffering
Renée Heberle
11. Negative Dialectics and Inclusive Communication
Paul Apostolidis
12. Feminist Politics and the Culture Industry: Adorno's Critique Revisited
Lambert Zuidervaart
13. Unfreedom, Suffering, and the Culture Industry: What Adorno Can Contribute to a Feminist Ethics
Jennifer L. Eagan
14. Unmarked and Unrehearsed: Theodor Adorno and the Performance Art of Cindy Sherman
Mary Caputi
15. The Economy of the Same: Identity, Equivalence, and Exploitation
Gillian Howie
Contributors
Selected Bibliography
Index
Other Ways to Acquire
Buy from Amazon.com

Buy from an Independent Bookstore
Buy from Powell's Books
Buy from Barnes and Noble.com
Find in a Library
Get the
Google Play Edition
Join
Sign up for e-mail notifications about new books and catalogs!
Related Subjects