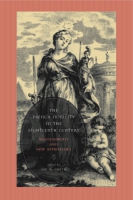 The French Nobility in the Eighteenth Century
Reassessments and New Approaches
Copyright: 2006
Dimensions: 6 x 9
Page Count: 328 pages
Hardcover ISBN: 978-0-271-02898-9
Paperback ISBN: 978-0-271-05867-2
"Smith, well known for his studies of the French nobility, presents a stimulating collection of essays originally presented at a 2002 North Carolina Humanities Center symposium.

Grouped under three themes—economy, political culture, and 'aristocratic reaction'—the essays, an exceptional blend of broad overview and detailed specialization, highlight the interrelationship of political, social, and intellectual change."
"It is a book of great value for our understanding not only of the nobility, but of the politics and culture of eighteenth-century France. To what extent one may draw general conclusions from the case studies that make up many of the essays is open to debate; it is certain that this book will stimulate further research."
"This well-edited and well-written anthology combines the latest research with a range of subjects on a variety of levels and has something for the professional historian and for the general reader."
Historians have long been fascinated by the nobility in pre-Revolutionary France. What difference did nobles make in French society? What role did they play in the coming of the Revolution? In this book, a group of prominent French historians shows why the nobility remains a vital topic for understanding France's past.
The French Nobility in the Eighteenth Century appears some thirty years after the publication of the most sweeping and influential "revisionist" assessment of the French nobility, Guy Chaussinand-Nogaret's La noblesse au dix-huitième siècle. The contributors to this volume incorporate the important lessons of Chaussinand-Nogaret's revisionism but also reexamine the assumptions on which that revisionism was based. At the same time, they consider what has been gained or lost through the adoption of new methods of inquiry in the intervening years. Where, in other words, should the nobility fit into the twenty-first century's narrative about eighteenth-century France?
The French Nobility in the Eighteenth Century will interest not only specialists of the eighteenth century, the French Revolution, and modern European history but also those concerned with the differences in, and the developing tensions between, the methods of social and cultural history.
In addition to the editor, the contributors are Rafe Blaufarb, Gail Bossenga, Mita Choudhury, Jonathan Dewald, Doina Pasca Harsanyi, Thomas E. Kaiser, Michael Kwass, Robert M. Schwartz, John Shovlin, and Johnson Kent Wright.
Contents
Acknowledgments
Introduction: Nobility After Revisionism
Part I: Nobility and Economy
1. Economies of Consumption: Political Economy and Noble Display in Eighteenth-Century France
Michael Kwass
2. A Divided Nobility: Status, Markets, and the Patrimonial State in the Old Regime
Gail Bossenga
3. The Noble Profession of Seigneur in Eighteenth-Century Burgundy
Robert M. Schwartz
4. Political Economy and the French Nobility, 1750–1789
John Shovlin
Part II: Nobility and Political Culture
5. Noble Tax Exemption and the Long-Term Origins of the French Revolution: The Example of Provence, 1530s to 1789
Rafe Blaufarb
6. Women, Gender, and the Image of the Eighteenth-Century Aristocracy
Mita Choudhury
7. Nobles into Aristocrats, or How an Order Became a Conspiracy
Thomas E. Kaiser
Part III: Nobility and "Aristocratic Reaction"
8. A Rhetoric of Aristocratic Reaction? Nobility in De l'Esprit des Lois
Johnson Kent Wright
9. The Making of an Aristocratic "Reactionary": The Comte d'Escherny, Noble Honor, and the Abolition of Nobility
Jay M. Smith
10. The Memoirs of Lameth and the Reconciliation of Nobility and Revolution
Doina Pasca Harsanyi
Part IV: Nobility and Modernity
11. Nobles as Signifiers: French Nobles and the Historians, 1820–1960
Jonathan Dewald
For Further Reading
List of Contributors
Index
Other Ways to Acquire
Buy from Amazon.com

Buy from an Independent Bookstore
Buy from Powell's Books
Buy from Barnes and Noble.com
Find in a Library
Get the
Google Play Edition
Join
Sign up for e-mail notifications about new books and catalogs!
Related Subjects