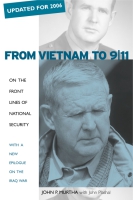 From Vietnam to 9/11
On the Front Lines of National Security, with a New Epilogue on the Iraq War
Copyright: 2003
Dimensions: 6 x 9
Page Count: 280 pages
Illustrations: 11 illustrations/5 maps
Paperback ISBN: 978-0-271-02928-3
Second Paperback Edition
"Congressman Murtha has written an insightful and powerful account of his life of public service and of the significant events in our nation's recent history that he has witnessed. It is a firsthand account by one of the most respected members of our Congress. This is a must-read if you want to hear it straight from a savvy man of action who was there making history."
"This uniquely powerful book offers the reader an opportunity for a new voyage of discovery. Congressman Murtha presents you an opportunity to discover the innermost workings of our democracy, our Congress, and the evolving shapes of complex decisions.

"The completion of this voyage will enable the reader to better comprehend the eddies, currents, tides and endless complexities which face our nation in national security and foreign policy. The author, through his personal experiences and efforts vividly detailed in this book, will make every reader a better informed citizen."
"This is a book that should be included in every history and current events collection."
In 1974, John P. "Jack" Murtha became the first Vietnam combat veteran elected to Congress. In the nearly three decades since then, Congressman Murtha has been intimately involved with governmental decisions about America's national security and foreign policy, adding his unique perspective to international affairs while faithfully representing Pennsylvania's twelfth district. From Vietnam to 9/11 combines personal memoir with thoughtful analysis to provide a behind-the-scenes account of the formation and conduct of U.S. foreign policy in the last quarter-century. At the same time, it tells the story of a man committed to service and community.
This edition, updated for 2006, contains the Congressman's November 17, 2005, press release concerning the redeployment of U.S. troops, his letter to his congressional colleagues about why he changed his mind on the war, and his letter of February 2, 2006, to President Bush about changing course in the Iraq War.
Contents
Acknowledgments
List of Acronyms
1. Service in Vietnam: 1966-1967
2. Election to Congress—Return to Vietnam
3. Tragedy in Lebanon
4. Soviet Union's Defeat in Afghanistan
5. High Drama Election in the Philippines
6. Stolen Election and American Intervention in Panama
7. "Operation Desert Shield" and "Operation Desert Storm"
8. Humanitarian Mission to Manhunt in Somalia
9. War in the Balkans
10. September 11, 2001
11. Reflecting on the Past/Looking to the Future
Index
Other Ways to Acquire
Buy from Amazon.com

Buy from an Independent Bookstore
Buy from Powell's Books
Buy from Barnes and Noble.com
Find in a Library
Get the
Google Play Edition
Join
Sign up for e-mail notifications about new books and catalogs!
Related Subjects
Also of Interest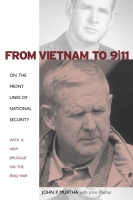 On the Front Lines of National Security