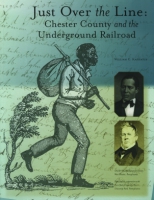 Just Over the Line
Chester County and the Underground Railroad
Copyright: 2002
Dimensions: 8.5 x 11
Page Count: 130 pages
Illustrations: 25 color/70 b&w illustrations/
Paperback ISBN: 978-0-929706-17-7
Distributed by the Penn State Press
for Chester County Historical Society
Paperback Edition: $26.95
Winner of the 2005 The Dave Moore Award presented by Elysian Fields Quarterly
"In Just Over the Line William C. Kashatus relates the exciting tales of the legendary underground railroad in Chester County, Pennsylvania. This area on the front lines of the struggle over slavery and black freedom was the nineteenth-century site of daring escapes, trap doors, hidden closets, tunnels and concealed cellars. Kashatus carefully documents the clandestine activity from which the legend grew; he also goes well beyond the legend to examine the conflicts, the complex roles of the Quakers and the spectrum of their opinion, the prominence of black activists and black community supports, and the interracial cooperation essential to the escape network's success. This is local history that was national in its impact. Just Over the Line tells an inspiring story that speaks to our hopes for the future of race relations in America."
"We all believe that we personally are good people, and that somehow we automatically understand right from wrong. We all believe in heroes; those lucky few whom circumstance thrust forward to enact the good. In Just Over the Line, William Kashatus gently undermines both assumptions. He does so in part by examining the meeting minutes of the Society of Friends of eighteenth and nineteenth century Chester County, Pennsylvania, as the Quakers publicly wrestled with the ethics of slavery, and resistance to the laws under which slavery operated. Mr. Kashatus also examines the local network of illicit smugglers we now call the Underground Railroad, and concludes that the network transcended class and race and religion and politics. . . . By demonstrating the complexity of our ancestors' decades-long struggle to understand and enact the good, and the pluralism of that effort, Kashatus refuses to give us storybook heroes. Instead we see ourselves in our own time, grappling with our ongoing freedom struggles, and are reminded that it can be done. As Kashatus points out, '. . . change begins with the individual and often happens when seemingly small actions and good will come together.' In such a world, we all have an opportunity to be heroes."
"A model of historical writing, which can be read to advantage by general reader and scholar alike. The illustrations, many in color, show a sampling of the more than 100 period photographs, documents and historical objects included in the exhibition."
"Illustrated with more than 100 images, including rare photographs, illustrations, and artifacts, Just Over the Line is a moving and provocative document."
Located just over the Mason-Dixon line dividing free and slave states, Chester County was an important and dangerous junction on the Underground Railroad's Eastern Line. Predominantly populated by the Religious Society of Friends, or Quakers, the county saw much debate and conflict brought about by the terrible risk involved in this radical and subversive activity. While traditionally Quakers have been believed to be very cooperative in the enterprise of conducting runaways in their flight to freedom, the analysis offered here by William C. Kashatus shows that it was not that simple. For many Friends, the conflict between the law and their convictions was a difficult one, and the passing of the Fugitive Slave Law in 1850 only added to their dilemma. This made Chester County a highly dangerous and yet geographically necessary stop on the journey north.
Previous histories of the Underground Railroad in the area have focused on this myth of unified opposition to slavery by the Quakers, but they have also committed another disservice. They ignored the actions and bravery of the African Americans who not only used the passages for their own escape but also facilitated the escape of others. This new history of Chester County's link in the Railroad attempts to correct that omission. Rather than propagate the history that the abolitionists themselves constructed, making themselves the heroes of the story, Kashatus digs deeper to find a more balanced view of this rich and fascinating history. This book is being published in conjunction with a new exhibit at the Chester County Historical Society that focuses on the Underground Railroad in Chester County.
Other Ways to Acquire
Buy from Amazon.com

Buy from an Independent Bookstore
Buy from Powell's Books
Buy from Barnes and Noble.com
Find in a Library
Join
Sign up for e-mail notifications about new books and catalogs!
Related Subjects