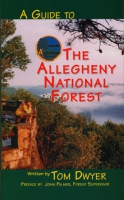 A Guide to the Allegheny National Forest
Copyright: 2002
Dimensions: 4.75 x 7.75
Page Count: 148 pages
Illustrations: 20 b&w illustrations/
Paperback ISBN: 978-0-9666045-0-4
"Written by Tom Dwyer, A Guide to the Allegheny National Forest is a marvelous pocket reference packed with history, detailed commentaries, maps, area-specific information and much more concerning this grand, 513,000 acre historic forest that makes Pennsylvania truly sylvan. Of especial note are the many hiking trail descriptions in this concise, easy-to-read, straightforward and friendly guide. If you are planning a vacation, hike, or just a plain day off to enjoy the beautify of the Allegheny National Forest, you should consult A Guide to the Allegheny National Forest without delay."
Nestled in four counties of Northwestern Pennsylvania are the 513,000 acres of the Allegheny National Forest, so designated by a proclamation signed by U.S. President Calvin Coolidge in 1923. A Guide to the Allegheny National Forest is the most current and comprehensive visitor's guide ever written for this national treasure.
Designed in a handy pocket book format, the guide briefly explores the human and geological history of the forest and includes hints on how to enjoy the forest safely. The book then describes the three distinct natural areas of the forest and features the activities available in each of these areas.
The three sections highlight the hiking trails, campgrounds (developed, dispersed, and primitive), recreation areas, picnic areas, snowmobile and ATV access sites, and the swimming, boating, and canoeing opportunities available in these areas. They also include trail maps, directions to ranger stations, addresses and phone numbers for lodging, rentals, and attractions in the area, even information on educational programs available in the forest. No other book so completely and comprehensively facilitates your next trip to the forest.
Other Ways to Acquire
Buy from Amazon.com

Buy from an Independent Bookstore
Buy from Powell's Books
Buy from Barnes and Noble.com
Find in a Library
Join
Sign up for e-mail notifications about new books and catalogs!
Related Subjects