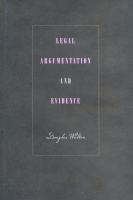 Legal Argumentation and Evidence
Copyright: 2002
Dimensions: 6 x 9
Page Count: 392 pages
Illustrations: 6 b&w illustrations
Hardcover ISBN: 978-0-271-02177-5
Paperback ISBN: 978-0-271-05835-1
Hardcover Edition: $103.95
Paperback Edition: $51.95
"In this book Douglas Walton builds on his earlier research and shows how it has application to many of the difficult questions that arise in legal reasoning. He brings a dialectical theory of argumentation as well as a theory of plausible reasoning to bear on the traditional problems of legal evidence. Legal Argumentation and Evidence is an original and important contribution not only to legal reasoning but also to the development of argumentation theory, critical thinking, and reasoning in general. It will be of interest to legal scholars but also to argumentation and reasoning theorists who want to keep abreast of the most recent developments in the field."
"Walton makes a significant contribution to the understanding of legal argumentation and to the concept of relevance in evidence law. He goes beyond formal logic and adds an analysis of abduction and plausible inference to fill gaps in what a deductive system can accomplish. The resulting theory provides an important insight into the relationships among the steps of a legal argument. The dialogue structure on which it is based should prove to be of great value in understanding strategy, either for the advocate, the evaluator of evidence, or the student of the legal process."
"Impressively researched and clearly written, this book is a notable contribution to the study of legal argumentation."
A leading expert in informal logic, Douglas Walton turns his attention in this new book to how reasoning operates in trials and other legal contexts, with special emphasis on the law of evidence. The new model he develops, drawing on methods of argumentation theory that are gaining wide acceptance in computing fields like artificial intelligence, can be used to identify, analyze, and evaluate specific types of legal argument. In contrast with approaches that rely on deductive and inductive logic and rule out many common types of argument as fallacious, Walton's aim is to provide a more expansive view of what can be considered "reasonable" in legal argument when it is construed as a dynamic, rule-governed, and goal-directed conversation. This dialogical model gives new meaning to the key notions of relevance and probative weight, with the latter analyzed in terms of pragmatic criteria for what constitutes plausible evidence rather than truth.
Contents
Acknowledgments
Introduction
1. SPECIAL FEATURES OF ARGUMENTATION IN A
LEGAL SYSTEM
Legal Rules and Particular Cases
Interpretation of Statutes and Documents
Stages of a Trial
Civil Law, Criminal Law, and Burden of Proof
Evidence
Relevance and Admissibility
Testimony of Witnesses
Expert Testimony
Examination
Dependence on Precedents
2. FORMS OF ARGUMENT COMMONLY USED IN LAW
Argument from Analogy
Argument from an Established Rule
Argument from Sign and Abductive Argument
Argument from Position to Know
Argument from Verbal Classification
Argument from Commitment
Practical Reasoning
Argument from Personal Attack (Ad Hominem Argument)
The Slippery Slope Argument
Other Important Forms of Argument
3. CIRCUMSTANTIAL EVIDENCE
The McCormick Criterion
The Jewish Classical Law Criterion
Bentham on Circumstantial Evidence
Patterson's Criterion
Wigmore on Direct Evidence and Autoptic Proference
Wigmore on Circumstantial and Testimonial Evidence
The Hope Head Case
The Five Criteria Summarized
How Useful is the Concept of Circumstantial Evidence?
Logical Difficulties of Circumstantial Evidence
4. PLAUSIBILITY AND PROBABILITY
A Third Type of Reasoning
Plausibility and Probability
Wigmore on Logical Inference and Probative Value
Locke on Plausibility and Degrees of Assent
Bentham on Plausibility and Evidence
Plausibility and Casuistry
Plausible Reasoning in the Ancient World
Carneades' Theory of Plausibility
Criteria and Applications of Carneades' Theory
Why the Neglect of Plausible Reasoning?
5. THE DIALECTICAL FRAMEWORK OF LEGAL
ARGUMENTATION
Implicature and Conversational Postulates
Rational Persuasion in the Trial
Normative Models of Argumentation
Persuasion Dialogue
Other Types of Dialogue
Peirastic Dialogue and Extastic Dialogue
Relevance and Dialectical Shifts
The Fair Trial and the Witch-Hunt
A Dialectical Theory of Statutory Interpretation
Argumentation Schemes, Fallacies, and Legal Logic
6. A PLAUSIBILISTIC THEORY OF EVIDENCE
Components of the New Theory
Evidence and Argument
The Probative Function
Ancient Roots of the New Theory
Advantages of The Plausibilistic Theory
Scientific Evidence
Logical and Legal Relevance
Legal Evidence, Credibility, and Plausibility
Expert Testimony as Evidence
Problems and Conclusions
7. RELEVANCE IN PERSUASION DIALOGUE
Persuasion Dialogue
Chaining of Arguments
Rules of Dialogue and Fallacies
The Fallacy of Irrelevant Conclusion
The Method of Argument Extrapolation
Testing an Actual Example
How the Method Should be Applied
Questions Raised
Application to Legal Cases
Arguments and Explanations
8. MULTI-AGENT ARGUMENTATION AND CREDIBILITY
Formal Dialogue Systems in Logic
The Ad Hominem and Ad Verecundiam Fallacies
Labeled Deductive Systems
Multi-Agent Systems
Adding Agents to Formal Dialectical Structures
Evaluating Fallacies and Blunders
How Should 'Agent' be Defined in Formal Dialectic?
Dialectical Shifts and Relevance
The Solution to the Problem
Conclusions
9. HOW TO USE THE NEW METHOD
The New Method
Inference Forms and Critical Questions
Arguments Depending on Testimony and Credibility
Verbal Arguments and Critical Questions
The Trial as Persuasion Dialogue
Argument Diagramming
The Formal Structure of Diagramming
Formalizing the New System
The Subtleties of Peirastic Dialogue
The Current Problems with Relevance
Bibliography
Index