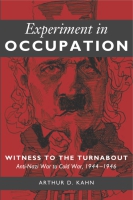 Experiment in Occupation
Witness to the Turnabout: Anti-Nazi War to Cold War, 1944–1946
Copyright: 2003
Dimensions: 6 x 9
Page Count: 248 pages
Hardcover ISBN: 978-0-271-02314-4
Paperback ISBN: 978-0-271-05852-8
Hardcover Edition: $67.95
Paperback Edition: $30.95
"Arthur Kahn had an extraordinary opportunity to observe events on the ground, as the American and British armies moved across Germany during the final phases of the war and subsequently during the early period of Allied occupation. He has produced a book that relies primarily on his own first-hand observations and rich documentary materials, most of which have not previously appeared in print. What differentiates this work from other accounts is Kahn's familiarity with German politics at the local level and his knowledge of how high-level Military Government policies were translated into actual practice. Kahn has an important story to tell and possesses a trove of documentary evidence to support some of his most interesting claims."
As a participant in many of the events he writes about in Experiment in Occupation, Arthur Kahn offers a richly detailed account of the process by which the fight against Nazism came to be transformed into the Cold War. His story reveals how those in the Military Government of Germany who were dedicated to carrying out the war aims promulgated by Roosevelt and Eisenhower for a thorough democratization of Germany were ultimately defeated in their confrontation with powerful elements in the Military Government and in Washington who were more intent upon launching a preemptive war against the Soviet Union than upon the eradication of Nazism and German militarism.
A twenty-three-year-old OSS operative, Arthur Kahn was assigned after D-Day to a psychological warfare unit, where at first he supervised prisoner-of-war interrogations and then served as an editor of intelligence. Instructed to respond to requests from Supreme Headquarters, he drafted proposals for psychological warfare approaches to critical situations at the front only to discover that a SHAEF directive banned calls to the Germans to revolt.
Subsequently Kahn served in liaison with the Soviets and during the Battle of the Bulge at Montgomery's British headquarters. For several months before and after VE Day he traveled through the American Zone as an intelligence investigator and wrote a report that led to the dismissal of General George S. Patton as Military Governor of Bavaria. Appointed Chief Editor of Intelligence of the Information Control Division, he produced the most influential intelligence weekly in the American Zone. Kahn's portrayal of events in postwar Germany provides warnings for current and future American experiments in foreign occupation.
Contents
Preface
Introduction: An OSS Recruit Despite Himself
Abbreviations
Part I: Why We Fight!
1. Soviet Partisans and Soviet Suspicions (Summer 1944)
2. We Do Not Call Upon the Germans to Revolt (Fall 1944)
3. The Capture-Liberation of Metz
4. The Battle of the Bulge (Winter 1944–1945)
5. Mainz: Investigating a Pre-VE Day Military Government (Spring 1945)
6. Interrogating Victims of Nazism and Nazis
7. Wuerzburg: Another Military Government Experience
8. What We Russians Like to Consider as a Typical American!
Part II: Policy Clash in Military Government
9. Crack Patton's Military Government Wide Open! (Summer 1945)
10. If Only You Americans Weren't Here . . . !
11. Patton's Last Stand
12. Elections, the American Cure-All (Fall 1945)
13. Rehearsal for McCarthyism
Part III: Triumph of the Cold Warriors
14. A Military Government in Crisis (Winter 1945–1946)
15. Elections: The American Panacea II
16. Democracy, American Zone Style!
17. Summing Up and the Collective Guilt Issue (Spring 1946)
18. Demoralized GIs
Epilogue: 1946–1947
Appendices
Index
Other Ways to Acquire
Buy from Amazon.com

Buy from an Independent Bookstore
Buy from Powell's Books
Buy from Barnes and Noble.com
Find in a Library
Get the
Kobo Edition
Get the
Kindle Edition
Get the
iBook Edition
Join
Sign up for e-mail notifications about new books and catalogs!
Related Subjects