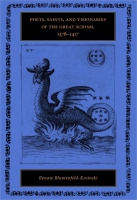 Poets, Saints, and Visionaries of the Great Schism, 1378–1417
Copyright: 2006
Dimensions: 6 x 9
Page Count: 256 pages
Illustrations: 14 illustrations/2 maps
Hardcover ISBN: 978-0-271-02749-4
Paperback ISBN: 978-0-271-05864-1
"Renate Blumenfeld-Kosinski writes with a real sympathy for her subjects, who emerge as flesh-and-blood humans struggling to make sense of a profound crisis that threatens to undermine their faith in the clergy. No book more vividly tells the story of the Great Schism or brings together a more fascinating set of characters and texts from the period. I can think of no finer introduction to the workings of the minds of medieval people than Poets, Saints, and Visionaries."
"Many scholars have claimed that the two principal kinds of medieval visions, the 'experience-based' religious and the 'literary-poetic' ones have to be examined together, but up to this moment no such analysis has been done. With an impressive tour de force and a smart, enjoyable narrative, Renate Blumenfeld-Kosinski examines the common motifs and the peculiar metaphors of saintly, prophetic, and poetic visionaries during the period of the Great Schism. This specific context also allows her the exploration of the different lobbies and pressure groups promoting and using those visions. It also gives an opportunity for a witty, incisive analysis, reaching back to the experiences of a previous schism in the twelfth century, with Hildegard of Bingen and Elisabeth Schönau taking stands on it, and then going into details with Birgitta of Sweden, Catherine of Siena, Philippe de Mézières, Christine de Pizan, and several other fascinating prophets, visionaries, mystics, and poets, exploring the limits of our imaginary. This book is the first to analyze this ensemble together, and its perspicacious observations will be the starting point of any future research on this subject."
"This engaging book will satisfy any academic or layperson interested in the history of the Church, but also in the history of mentalities at large. The book is well-written and comprehensive on many levels."
"Blumenfeld-Kosinski's choice to focus on the imaginaire of the Great Schism is extremely productive; since the book focuses so extensively on visions and prophecies, one might even say it is an inspired choice. One of the most fascinating dimensions of her approach is the way in which it enables exploration of concepts and images across generic boundaries. Her book offers a fresh perspective on a rich period as well as some extremely well-known medieval writers."
"[This book] is an excellent complement to our general knowledge of the schism in that it provides an intelligent reading of authors who are often overlooked in this context. The illustrations are particularly well chosen, and the bibliography gratifyingly full."
"This book is provided with a genealogy of popes, with maps having excellent legends, fourteen illustrations, a good bibliography . . . and an index. The author's style is leisurely and reads well. Poets, Saints, and Visionaries certainly belongs in university libraries and will profit students and teachers of the late Middle Ages and of Church history."
For almost forty years, from 1378 to 1417, the Western Church was divided into rival camps headed by two—and eventually three—competing popes. The so-called Schism provoked a profound and long-lasting anxiety throughout Europe—an anxiety that reverberated throughout clerical circles and among the ordinary faithful. In Poets, Saints, and Visionaries of the Great Schism, Renate Blumenfeld-Kosinski looks beyond the political and ecclesiastical storm and finds an outpouring of artistic, literary, and visionary responses to one of the great calamities of the late Middle Ages.
Modern historians have analyzed the Great Schism mostly from the perspective of church politics. Blumenfeld-Kosinski shifts our attention to several groups that have not before been considered together: saintly men and women (such as Catherine of Siena, Pedro of Aragon, Vincent Ferrer, and Constance de Rabastens), politically aware and committed poets (such as Philippe de Mézières and Christine de Pizan), and prophets (for example, the mysterious Telesphorus of Cosenza and the authors of the anonymous Prophecies of the Last Popes). Not surprisingly, these groups often saw the Schism as an apocalyptic sign of the end times. Images abounded of the divided Church as a two-headed monster or suffering widow.
A twelfth-century "prelude" looks at the schism of 1159 and the role the famous visionaries Hildegard of Bingen and Elisabeth of Schönau played in this earlier crisis in order to define common threads of "mystical activism" as well as the profound differences with the later Great Schism. Poets, Saints, and Visionaries of the Great Schism will be of interest to students and scholars of medieval and early modern history, religious studies, and literature.
Contents
Acknowledgments
Popes During the Great Schism
Maps
Introduction
1. A Twelfth-Century Prelude: Hildegard of Bingen, Elisabeth of Schönau, John of Salisbury, and the Schism of 1159
2. Saints and Visionaries I: From the 1360s to the Beginnings of the Schism
3. Saints and Visionaries II: The Later Schism Years
4. Poetic Visions of the Great Schism I: Philippe de Mézières and Eustache Deschamps
5. Poetic Visions of the Great Schism II: Honoré Bovet and Christine de Pizan
6. Prophets of the Great Schism
Conclusion
Bibliography
Index
Other Ways to Acquire
Buy from Amazon.com

Buy from an Independent Bookstore
Buy from Powell's Books
Buy from Barnes and Noble.com
Find in a Library
Get the
Google Play Edition
Join
Sign up for e-mail notifications about new books and catalogs!
Related Subjects
Also of Interest