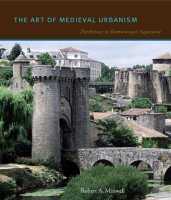 The Art of Medieval Urbanism
Parthenay in Romanesque Aquitaine
Copyright: 2007
Dimensions: 9.5 x 10
Page Count: 400 pages
Illustrations: 95 color/190 b&w illustrations
Hardcover ISBN: 978-0-271-02956-6
Hardcover Edition: $103.95
Publication of this book has been aided by a grant from the Millard Meiss Publication Fund of the College Art Association
"This volume is as important for the history of medieval urbanism as it is for its close examination of medieval sculpture. Few studies integrate the analysis of the origins and growth of a town and its social and religious structures with the broad web of concerns and ideologies that frame the character and messages of its medieval monuments."
"A groundbreaking book, The Art of Medieval Urbanism revolutionizes the paradigm within which scholars have customarily discussed the period's monuments."
"This interdisciplinary approach results in a unique publication on the topic of medieval Parthenay and medieval urbanism in general."
"Maxwell's penetrating analyses of Parthenay's churches, supported by his stellar photography, afford the reader an intimate encounter with the extraordinary iconographic and architectural personality of these buildings. It is in these jewel-like settings that Maxwell richly develops his acute insights into the cultural implications of locally based systems of urban construction."
"The book is handsomely produced with excellent graphics and phased plans of Parthenay and the region. The Art of Medieval Urbanism will be the definitive statement on Parthenay and on visual approaches to urbanism, and will serve scholars and students well for years to come."
The Art of Medieval Urbanism examines the role of monumental sculpture and architecture in the medieval cityscape, offering a pathbreaking interpretation of the relationships among art, architecture, and the history of urbanism. In the first study of its kind, Robert Maxwell shifts attention away from the great Gothic cities of the later Middle Ages to focus on the urban context of art making in the earlier Romanesque era.
Maxwell concentrates on Parthenay, a flourishing town in eleventh- and twelfth-century Aquitaine. Exploring Parthenay's exceptionally well-preserved structures, the author charts two centuries of urban development in southwestern France. Drawing on the methods of historical anthropology, Maxwell brings the monumental arts into dialogue with courtly romance literature, the iconography of seals and coins, history writing, and contemporary mythologies of place to show how the urban experience inflected the invention of history, aristocratic self-fashioning, and urban identity. Maxwell's interdisciplinary approach shows that medieval urbanism should be understood as a fabric of constructed identities of history, self, and place grounded in the monumental arts. The Art of Medieval Urbanism offers a fresh model for urban studies and proposes a new approach to the study of medieval art by restoring an urban dimension to our view of Romanesque production.
Contents
List of Illustrations
Preface
Acknowledgments
Introduction
1. Parthenay and the Landscape of Romanesque Aquitaine
2. From Castrum to Oppidum: Constructing a Domain
3. Style and the Politics of Urbanization
4. Constructing an Urban Identity
5. Constructing History: Family Romance and Urban Legends
6. From Castrum to Signum: An Iconography of Urbanism
7. The End of an Era?
Epilogue: Urban Orientations
Appendixes
A. Foundation Charter of St-Paul (ca. 1070–1075)
B. Foundation Charter of St-Pierre (1092)
C. Donation Charter of St-Pierre (1119)
Notes
Bibliography
Index
Afterword