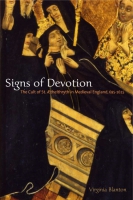 Signs of Devotion
The Cult of St. Æthelthryth in Medieval England, 695–1615
Copyright: 2007
Dimensions: 6 x 9
Page Count: 368 pages
Illustrations: 16 illustrations/2 maps
Hardcover ISBN: 978-0-271-02984-9
Paperback ISBN: 978-0-271-05869-6
Winner of the 2008 Society for Medieval Feminist Scholarship Best First Book Prize
"Hagiography is no longer the exclusive bailiwick of church-affiliated scholars but draws others from fields such as women's studies, social history, and the politics of literary production. Disciplinary boundaries between art history, literature, and the history of religion have all been breached in the new studies of saints' cults. . . . Signs of Devotion is an exemplary demonstration of how fruitful such interdisciplinarity can be."
"By judiciously choosing her materials and detailing their social, religious, and political contexts, Blanton clearly conveys the trajectory of Æthelthryth's cult and provides insight not just into that cult but into devotional life in medieval England. The book is richly illustrated and includes a useful apparatus of tables, maps, and genealogies as well as an appendix listing evidence of Æthelthryth's cult, from surviving images and artifacts to references to guilds, fairs, and church dedications."
"Blanton has produced a thorough, valuable study of interest not only to specialists in medieval English church history but also to scholars interested in the reception of saintly cults in general and of female saints in particular."
Signs of Devotion is the first longitudinal study of an Anglo-Saxon cult from its inception in the late seventh century through the Reformation. It examines the production and reception of texts—both written and visual—that supported the cult of Æthelthryth, an East Anglian princess who had resisted the conjugal demands of two political marriages to maintain her virginity. Æthelthryth forfeited her position as Queen of Northumbria to become a nun and founded a monastery at Ely, where she ruled as abbess before dying in 679 of a neck tumor, which was interpreted as divine retribution for her youthful vanity in wearing necklaces. The cult was initiated when, sixteen years after her death, Æthelthryth's corpse was exhumed, the body found incorrupt, and the tumor shown to have been healed posthumously.
Signs of Devotion reveals how Æthelthryth, who became the most popular native female saint, provides a central point of investigation among the cultic practices of several disparate groups over time—religious and lay, aristocratic and common, male and female, literate and nonliterate. This study illustrates that the body of Æthelthryth became a malleable, flexible image that could be readily adopted. Hagiographical narratives, monastic charters, liturgical texts, miracle stories, estate litigation, shrine accounts, and visual representations collectively testify that the story of Æthelthryth was a significant part of the cultural landscape in early and late medieval England. More important, these representations reveal the particular devotional practices of those invested in Æthelthryth's cult.
By centering the discussion on issues of textual production and reception, Blanton provides a unique study of English hagiography, cultural belief, and devotional practice. Signs of Devotion adds, moreover, to the current conversation on virginity and hagiography by encouraging scholars to bridge the divide between studies of Anglo-Saxon and late medieval England and challenging them to adopt methodological strategies that will foster further multidisciplinary work in the field of hagiographical scholarship.
Contents
List of Illustrations
Acknowledgments
List of Abbreviations
Introduction
1. Cicatricis uestigia parerent: The Mark of Virginity in Bede's Historia Ecclesiastica (ca. 630–ca. 731)
2. Æðeldryð wolde ða ealle woruld-pincg forlatan: The Ideology of Chastity and Monastic Reform (ca. 970–ca. 998)
3. Tota integra, tota incorrupta: The Inviolable Body and Ely's Monastic Identity (1066–ca. 1133)
4. La gloriuse seint Audrée / Une noble eglise a fundee: Chastity, Widowhood, and Aristocratic Patronage (ca. 1189–1416)
5. Abbesse heo was hir self imad after þe furst zere, and an holi couent inow heo norisede þere: Clerical Production, Vernacular Texts, and Lay Devotion (ca. 1325–ca. 1615
Conclusion
Appendix: Imagines Ætheldredae (970–1550)
Bibliography
Index
Other Ways to Acquire
Buy from Amazon.com

Buy from an Independent Bookstore
Buy from Powell's Books
Buy from Barnes and Noble.com
Find in a Library
Get the
Google Play Edition
Join
Sign up for e-mail notifications about new books and catalogs!
Related Subjects
Also of Interest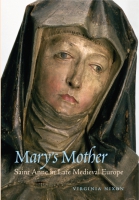 Saint Anne in Late Medieval Europe