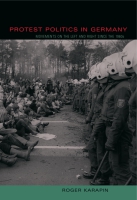 Protest Politics in Germany
Movements on the Left and Right Since the 1960s
Copyright: 2007
Dimensions: 6 x 9
Page Count: 336 pages
Hardcover ISBN: 978-0-271-02985-6
Paperback ISBN: 978-0-271-02986-3
Paperback Edition: $30.95
Winner of the 2008 Charles Tilly Award for Best Book Published in Collective Behavior and Social Movements as sponsored by the American Sociological Association.
"Providing detailed analysis of several recent social movements in Germany, Roger Karapin explains the development of social movement campaigns, with particular concern for activists' tactical and strategic choices. By comparing similarly situated movements, Karapin shows the extent to which activists make their own fates, given the very real constraints of political contingencies, including the quality of government leadership, the effectiveness of policing, and the support of party politicians. This book is critical reading for anyone interested in social movements and in German politics more broadly."
"Karapin's study significantly contributes to a new trajectory in social movement theorizing, going beyond the presumption that fixed grievances, resources, and opportunities shape the choice of protest strategies. Rather, actors engage in opportunity amplification and enhancement as they interact with allies and adversaries. Both the theoretical exposition in Karapin's study and the comparative analysis of protest episodes in Germany make this book valuable reading for anyone interested in social movement theory."
"This book is critical reading for anyone interested in social movements and in German politics more broadly."
"From left-wing nuclear energy protests to right-wing attacks on immigrants, from impoverished East to post-industrial West: Germany's protest repertoire is rich and changing. In this wide-ranging study, Roger Karapin shows how the interactions among alliances, reforms, and policing produced large and influential movements—and sometimes success—in a country that has learned to civilize, and respond to, social protest. Inter alia, Karapin shows how unconventional and conventional politics mesh through the interactions among elites, activists, and institutions."
"Based on broad and detailed empirical evidence from nine cases of conflict that include both left and right movement activities, and comparing sets of contrasting cases, this study promotes an interactive political process approach. The author convincingly demonstrates that this approach can better explain the scope and form of protest than conventional theories drawing on socioeconomic factors and political institutions. This thought-provoking and well-researched book is a must for all students of social movements and political protest."
"Karapin's book on protest movements in Germany provides the perfect synthesis of theory and evidence. . . . [The] arguments are supported by rich empirical evidence, an in-depth understanding of German protest politics in particular and German politics in general, and a sound knowledge of protest theory. . . . [This] book is essential reading for those interested in protest politics and social movements."
"Protest Politics in Germany provides the reader with a wide range of protest movements across a spread of geographical areas, presenting a convincing case in support of political interaction as a key element in the shaping of protest movements. . . . It is a well-written and clearly structured study, accessible to those who may be less familiar with either German political culture or social movement theories. As such, it provides important comparative material to students and scholars working in the field and is a valuable addition to the extant body of literature."
"Perhaps it is not news that real democracy grows and deepens through protest participation, but it is a pleasure to see this argument supported in such rich and varied comparative detail here."
Social movements and the protests they spawn are widely regarded as important to the vibrancy of democracy and its ability to respond constructively to change. In the immediate postwar period, West Germany's was a "spectator democracy," with the citizenry largely passive and elites operating mainly through consensus. Beginning with the student demonstrations in the late 1960s, however, Germany experienced waves of left-wing protest that expanded the political agenda and broadened political participation. Later, after the unification of East and West Germany, the country was confronted by new challenges from right-wing groups, which often engaged in violence during the early 1990s.
In this book Roger Karapin carefully examines protest movements on both the left and the right in order to understand how they became large and influential and why protesters in different conflicts used quite different methods (ranging from conventional participation to nonviolent disruption to violent militancy). His study of nine cases of protest includes leftist opposition to urban-renewal and nuclear-energy policies in the 1970s and 1980s and rightist opposition to immigration policy in the 1990s. Comparisons of contrasting cases reveal the crucial role played by strategic interaction among protesters, party politicians, and government officials—rather than socioeconomic factors or political institutions—in determining the paths that the movements took.
Contents
Tables and Figures
Preface and Acknowledgments
Introduction: Explaining Protest Politics in Germany
1. Political Interactions and German Protest Movements Since the 1960s
2. Urban Renewal Conflicts in Hanover and West Berlin
3. Nuclear Energy Conflicts at Wyhl and Brokdorf
4. Immigration Conflicts in Munich and Rendsburg County
5. Immigration Conflicts in Hoyerswerda, Rostock, and Riesa
6. Conclusions
Notes
References
Index