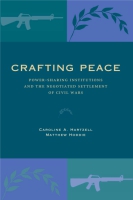 Crafting Peace
Power-Sharing Institutions and the Negotiated Settlement of Civil Wars
Copyright: 2007
Dimensions: 6 x 9
Page Count: 208 pages
Hardcover ISBN: 978-0-271-03207-8
Paperback ISBN: 978-0-271-03208-5
Paperback Edition: $30.95
"This engaging and rigorous research addresses one of the most vexing issues in achieving postwar peace: forging and maintaining power-sharing among the protagonists in conflict. They argue, quite convincingly and with a diverse research design—and against conventional wisdom—that more power-sharing is better to achieve durable peace in war-torn societies. Scholars and practitioners working to negotiate and implement settlements in civil wars will want to read this volume and reconsider some of the skepticism that swirls around power-sharing today."
"This landmark study is the best book available on the relatively recent experiment of ending civil wars by constructing power-sharing governments from former adversaries. The identification of four dimensions of power-sharing is a major theoretical development. The original data set is subjected to sophisticated quantitative analysis and is buttressed by impressive in-depth case studies. The conclusions are important for both theoretical and policy reasons. Every future researcher will have to take this analysis into consideration."
"Crafting Peace is a well-articulated and impressively researched book with important implication for literatures on civil wars, civil war termination, and effect of institutions in fostering cooperation."
The recent efforts to reach a settlement of the enduring and tragic conflict in Darfur demonstrate how important it is to understand what factors contribute most to the success of such efforts. In this book, Caroline Hartzell and Matthew Hoddie review data from all negotiated civil war settlements between 1945 and 1999 in order to identify these factors.
What they find is that settlements are more likely to produce an enduring peace if they involve construction of a diversity of power-sharing and power-dividing arrangements between former adversaries. The strongest negotiated settlements prove to be those in which former rivals agree to share or divide state power across its economic, military, political, and territorial dimensions.
This finding is a significant addition to the existing literature, which tends to focus more on the role that third parties play in mediating and enforcing agreements. Beyond the quantitative analyses, the authors include a chapter comparing contrasting cases of successful and unsuccessful settlements in the Philippines and Angola, respectively.
Contents
List of Tables and Figures
Acknowledgments
Abbreviations and Acronyms
Introduction: Institutions and the Negotiated Settlement of Civil Wars
1. After the Fighting Stops: Security Concerns, Institutions, and the Post–Civil War Environment
2. Creating Power-Sharing and Power-Dividing Institutions
3. Institutionalizing an Enduring Peace
4. Implementing Power-Sharing and Power-Dividing Agreements
5. Negotiating for Peace in Angola and the Philippines: Case Studies of Failure and Success
Conclusion
Appendix
References
Index
Other Ways to Acquire
Buy from Amazon.com

Buy from an Independent Bookstore
Buy from Powell's Books
Buy from Barnes and Noble.com
Find in a Library
Get the
Kobo Edition
Get the
iBook Edition
Join
Sign up for e-mail notifications about new books and catalogs!
Related Subjects
Also of Interest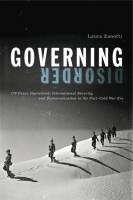 UN Peace Operations, International Security, and Democratization in the Post–Cold War Era
This book is a part of the Association of American University Presses'
Books for Understanding: Sudan
book list, created to help all of us better understand the world we live in.
Knowledge, Not just information