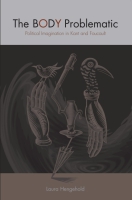 The Body Problematic
Political Imagination in Kant and Foucault
Copyright: 2007
Dimensions: 6 x 9
Page Count: 336 pages
Hardcover ISBN: 978-0-271-03211-5
Paperback ISBN: 978-0-271-03212-2
Hardcover Edition: $61.95
Paperback Edition: $30.95
"This thought-provoking work on Foucault reads him against a Kantian background—replacing transcendental critique with genealogical critique. Locating Kant's critical standpoint in a resistance to being dominated by such problematic limits as a thing in itself and an infinite subject, Hengehold goes on to explore how Foucault treats madness, sexuality, and delinquency as individual embodied modes of resistance to the limit concepts of the body politic. This book will be of interest to readers in contemporary philosophy, aesthetics, feminism, critical theory, and the social sciences."
"By examining Foucault's writings on Kant and the concept of aesthetic judgment in the work of both philosophers, Hengehold reveals compelling connections between these pivotal thinkers. Reading Foucault through Kant, she offers a serious challenge to critics who would dismiss Foucault's last works as a mere reduction of ethics to aesthetics. Hengehold's elegant prose and meticulous scholarship add interest and depth to a very original analysis. Every Foucault scholar needs to read this book."
"In The Body Problematic, Laura Hengehold develops an ingenious and comprehensive account of the relation between body and State in Kant and Foucault. . . . By laying out the issue, the author has set the bar very high, and thereby done those working in the field a huge favor. We now have a new benchmark that both inspires us and vindicates our work."
Late in life, Foucault identified with "the critical tradition of Kant," encouraging us to read both thinkers in new ways. Kant's "Copernican" strategy of grounding knowledge in the limits of human reason proved to stabilize political, social-scientific, and medical expertise as well as philosophical discourse. These inevitable limits were made concrete in historical structures such as the asylum, the prison, and the sexual or racial human body. Such institutions built upon and shaped the aesthetic judgment of those considered "normal."
Following Kant through all of Foucault's major works, this book shows how bodies functioned as "problematic objects" in which the limits of post-Enlightenment European power and discourse were imaginatively figured and unified. It suggests ways that readers in a neoliberal political order can detach from the imaginative schemes vested in their bodies and experiment normatively with their own security needs.
Contents
Acknowledgments
Introduction: Imagination and Problematization
Part 1: The Political Topology of Kantian Reason
Drawing the Boundaries of Pure Reason
Transcendental and Other Topographies
The Quest for Unity
Discursivity and Materiality
The Virtues of Communicability
The Kantian Body—Missing in Action
Part 2: Man and His Doubles: Two Ways to Problematize
Heterotopia and the Phenomenological World
In the Field of the Problematic Object
The Man-Form: Empirical and Transcendental
Materiality and Resemblance: Statements
Materiality and Resemblance: Bodies
An-aesthetic philosophy?
Part 3: Locked in the Market
From Raison d'État to Phobie d'État
Migration of Sovereignty
The Normal and the Normative
Crisis in Liberalism
Negative Anthropology
Afterword: Not Similar to Something, Just Similar
References
Index
Other Ways to Acquire
Buy from Amazon.com

Buy from an Independent Bookstore
Buy from Powell's Books
Buy from Barnes and Noble.com
Find in a Library
Get the
Kindle Edition
Get the
Google Play Edition
Join
Sign up for e-mail notifications about new books and catalogs!
Related Subjects
Also of Interest
Race, Gender, and Implicit Understanding