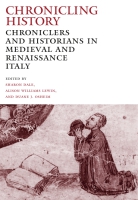 Chronicling History
Chroniclers and Historians in Medieval and Renaissance Italy
Copyright: 2007
Dimensions: 6 x 9
Page Count: 352 pages
Hardcover ISBN: 978-0-271-03225-2
Paperback ISBN: 978-0-271-03226-9
"There is nothing like this on the market. . . . Nowhere is there offered such an ample body of translations; nowhere is there offered such generous commentary. There are some books of original sources . . . but none that covers as much chronological and regional ground."
"Overall, this is a wonderful source for researchers familiar with and delving deeper into regional Italian history."
Literally thousands of annals, chronicles, and histories were produced in Italy during the Middle Ages, ranging from fragments to polished humanist treatises. This book is composed of a set of case studies exploring the kinds of historical writing most characteristic of the period.
We might expect a typical medieval chronicler to be a monk or cleric, but the chroniclers of communal and Renaissance Italy were overwhelmingly secular. Many were jurists or notaries whose professions granted them access to political institutions and public debate. The mix of the anecdotal and the cosmic, of portents and politics, makes these writers engaging to read.
While chroniclers may have had different reasons to write and often very different points of view, they shared the belief that knowing the past might explain the present. Moreover, their audiences usually shared the worldview and civic identity of the historians, so these texts are glimpses into deeper cultural and intellectual contexts. Seen more broadly, chronicles are far more entertaining and informative than narratives. They become part of the very history they are describing.
Contents
Preface
Introduction
1. Lombard City Annals and the Social and Cultural History of Northern Italy
Edward Coleman
2. History Writing in the Twelfth-Century Kingdom of Sicily
Graham A. Loud
3. The Genoese Civic Annals: Caffaro and His Continuators
John Dotson
4. Salimbene de Adam and the Franciscan Chronicle
Alison Williams Lewin
5. The Villani Chronicles
Paula Clarke
6. Chronicles and Civic Life in Giovanni Sercambi's Lucca
Duane J. Osheim
7. Fourteenth-Century Lombard Chronicles
Sharon Dale
8. Venetian History and Patrician Chroniclers
John Melville Jones
9. Chronicles into Legends and Lives: Two Humanist Accounts of the Carrara Dynasty in Padua
Benjamin G. Kohl
10. Challenging Chronicles: Leonardo Bruni's History of the Florentine People
Gary Ianziti
11. From the Roman Empire to Christian Imperialism: The Work of Flavio Biondo
Nicoletta Pellegrino
Bibliography
Index
Other Ways to Acquire
Buy from Amazon.com

Buy from an Independent Bookstore
Buy from Powell's Books
Buy from Barnes and Noble.com
Find in a Library
Get the
Google Play Edition
Join
Sign up for e-mail notifications about new books and catalogs!
Related Subjects
Also of Interest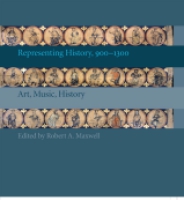 Art, Music, History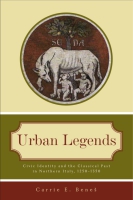 Civic Identity and the Classical Past in Northern Italy, 1250–1350