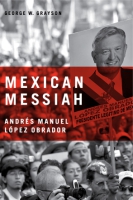 Mexican Messiah
Andrés Manuel López Obrador
Copyright: 2007
Dimensions: 6 x 9
Page Count: 360 pages
Illustrations: 1 map
Hardcover ISBN: 978-0-271-03262-7
Paperback ISBN: 978-0-271-03263-4
Hardcover Edition: $35.95
Paperback Edition: $25.95
George Grayson, author of Mexican Messiah, has been a guest on CNN's Lou Dobbs Tonight several times. To view the August 21, 2007 CNN interview, click on the link. To read a transcript of the interview that aired on September 17, 2007, click here. Professor Grayson was also interviewed on KCBS in San Francisco on September 1, 2007. Click on the link to listen to that interview. He has written an op-ed piece for the San Diego Union-Tribune that was published on September 2, 2007 as well.
"No scholar has followed Mexican electoral politics more closely than George Grayson, who capitalizes on that extensive knowledge to provide a readable, provocative, critical, extensively researched biography that sheds light on Mexico's most controversial politician. Grayson's challenging interpretations and revelations allow readers to more fully understand López Obrador's personal and political motivations, his dramatic rise to national prominence, and his place in the recent wave of populist, left-of-center national political figures in Latin America."
"Mexican Messiah examines in copiously researched detail this most important and controversial political figure to emerge in Mexico since Carlos Salinas de Gortari."
"Drawing on the theoretical work of Oscar Aguilar Ascencio and Enrique Krauss and on exhaustive research (including 140 interviews), the author provides a rich 'two-fer': an incisive political biography and an astute analysis of contemporary Mexican politics."
"This book is recommended for anyone who wants a detailed look at Mexican politics, recent Mexican history, or the candidate himself. It also provides insightful information about the nation of Mexico and its people, especially in recent times."
"[Mexican Messiah] is a must for researchers concentrating on the PRD and will also be of interest to those focusing more generally on Mexican party politics. Given its accessible style and relatively brief theoretical section, it may also be a good read for a more general, non-academic audience."
The emergence of Latin American firebrands who champion the cause of the impoverished and rail against the evils of neoliberalism and Yankee imperialism—Hugo Chávez in Venezuela, Evo Morales in Bolivia, Néstor Kirchner in Argentina, Andrés Manuel López Obrador in Mexico—has changed the landscape of the Americas in dramatic ways. This is the first biography to appear in English about one of these charismatic figures, who is known in his country by his adopted nickname of "Little Ray of Hope."
The book follows López Obrador's life from his early years in the flyspecked state of Tabasco, his university studies, and the years that he lived among the impoverished Chontal Indians. Even as he showed an increasingly messianic élan to uplift the downtrodden, he confronted the muscular Institutional Revolutionary Party in running twice for governor of his home state and helping found the leftist-nationalist Democratic Revolutionary Party (PRD). As the PRD's national president, he escalated his political and ideological warfare against his former president, Carlos Salinas, and other "conspirators" determined to link Mexico to the global economy at the expense of the poor. His strident advocacy of the "have-nots" lifted López Obrador to the mayorship of Mexico City, which he rechristened the "City of Hope." Its ubiquitous crime, traffic, pollution, and housing problems have made the capital a tomb for most politicians. Not for López Obrador. Through splashy public works, monthly stipends to senior citizens, huge marches, and a dawn-to-dusk work schedule, he converted the position into a trampoline to the presidency. Although he lost the official count by an eyelash, the hard-charging Tabascan cried fraud, took the oath as the nation's "legitimate president," and barnstormed the country, excoriating the "fascist" policies of President Felipe Calderón and preparing to redeem the destitute in the 2012 presidential contest.
Grayson views López Obrador as quite different from populists like Chávez, Morales, and Kirchner and argues that he is a "secular messiah, who lives humbly, honors prophets, gathers apostles, declares himself indestructible, relishes playing the role of victim, and preaches a doctrine of salvation by returning to the values of the 1917 Constitution— fairness for workers, Indians' rights, fervent nationalism, and anti-imperialism."
Contents
List of Tables
Acknowledgments
List of Acronyms
Introduction
1. A Child Is Born in Tabasco
2. Blessed Are the Poor
3. The Devil and His Ideas
4. López Obrador Takes on the Romans: The 1988 Gubernatorial Campaign
5. López Obrador Fights the Romans a Second Time
6. PRD President: A "Miracle Worker"
7. The New Jerusalem
8. The Mayor of Mexico City
9. "Republican Austerity" and Mañaneras
10. The Loaves and the Fishes
11. "La Ciudad de la Esperanza"
12. Apostles, Disciples, and Magdalenas
13. Challenging the Pharisees, Sadducees, and Scribes
14. Vicente Fox: López Obrador's Last Neoliberal President
15. The Eleven Commandments
16. Winning the "Promised Land"
17. An Electoral Setback
18. A Second Coming?
Select Bibliography
Index