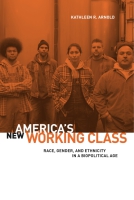 America's New Working Class
Race, Gender, and Ethnicity in a Biopolitical Age
Copyright: 2007
Dimensions: 6 x 9
Page Count: 256 pages
Hardcover ISBN: 978-0-271-03276-4
Paperback ISBN: 978-0-271-03277-1
Winner of the 2009 Polity Prize awarded for the best article to appear in the pages of Polity, the journal of the Northeastern Political Science Association, in 2007. This article was the basis for her book, America's New Working Class.
"Kathleen Arnold boldly and convincingly takes on social analysts who contend that the state plays a diminished role in the 'flattened world' of global capitalism. Rather, she demonstrates that the United States has deployed state power to deregulate, privatize, and weaken public provision while utilizing new forms of bureaucratic 'prerogative power' to 'ascetically discipline' a new working class of vulnerable, low-wage workers."
"Arnold is a political theorist who understands the relevance and necessity of normative theory in addressing social and political inequalities. Fortunately for the reader, she is well equipped to undertake this task."
"Arnold gives a compelling account of the contradictions and strange paradoxes of contemporary politics and unmasks the brutal forms of power concealed by the modern state that have intensified poverty, exploitation, dehumanization, racism, and sexism."
"This ambitious book successfully weaves together labor studies, political philosophy, and the literature on globalization. It is therefore accessible to Americanists as much as to those in political theory and international relations."
Today's political controversy over immigration highlights the plight of the working class in this country as perhaps no other issue has recently done. The political status of immigrants exposes the power dynamics of the "new working class," which includes the former labor aristocracy, women, and people of color. This new working class suffers exploitation in advanced industrial countries as the social cost of capitalism's success in a neoliberal and globalized political economy. Paradoxically, as borders become more open, they are also increasingly fortified, subjecting many workers to the suspension of law.
In this book, Kathleen Arnold analyzes the role of the state's "prerogative power" in creating and sustaining this condition of severe inequality for the most marginalized sectors of our population in the United States. Drawing on a wide range of theoretical literature from Locke to Marx and Agamben (whose notion of "bare life" features prominently in her construal of this as a "biopolitical" era), she focuses attention especially on the values of asceticism derived from the Protestant work ethic to explain how they function as ideological justification for the exercise of prerogative power by the state.
As a counter to this repressive set of values, she develops the notion of "authentic love" borrowed from Simone de Beauvoir as a possible approach for dealing with the complex issues of exploitation in liberal democracy today.
Contents
Acknowledgments
Introduction: Globalization, Prerogative Power, and the New Working Class
1. Asceticism, Biopower, and the Poor
2. Domestic War: Locke's Concept of Prerogative
3. Exploitation and the New Working Class
4. Antagonism and Exploitation: The Importance of Biopower
5. War and "Love"
Index