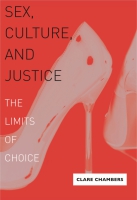 Sex, Culture, and Justice
Copyright: 2007
Dimensions: 6 x 9
Page Count: 256 pages
Hardcover ISBN: 978-0-271-03301-3
Paperback ISBN: 978-0-271-03302-0
"Drawing on Catharine MacKinnon, Pierre Bourdieu, and Michel Foucault, Clare Chambers argues that although all our choices are socially constructed, some are more in keeping with the demands of justice, equality, and autonomy than others. Focusing on choices by women in liberal cultures, she detects two troubling features—disadvantage and influence. When both are present, an injustice is likely to be done, warranting state intervention. An incisive, well-written book with a sustained, original argument."
"Chambers's refreshing approach has the potential to expand the scope of conventional liberal theory by showing how liberals can (and should) directly meet the challenge of postmodern approaches and by demonstrating that feminist contributions are the well from which most innovations in liberalism are drawn."
"This book takes up an important topic in the political philosophy of liberalism: what is the state to do when individuals make choices that are socially constructed and disadvantageous to them? It insightfully and originally bridges the divide between continental and analytic political philosophy, combining the insights of Foucault, Bordieu, and Butler on one side, and those of Rawls, Raz, Nussbaum, Okin and others on the other side. The book contributes significantly to the literature of liberalism, autonomy, and feminism."
"The argument is clear, and the review of the literature on liberalism, paternalism, and autonomy is thorough and succinct."
"It is a very valuable contribution to many different bodies of work (liberal theory, multiculturalism, feminism, and social theory); equally important, however, it should generate interesting and further debates of the role of the state in promoting gender equality."
Autonomy is fundamental to liberalism. But autonomous individuals often choose to do things that harm themselves or undermine their equality. In particular, women often choose to participate in practices of sexual inequality—cosmetic surgery, gendered patterns of work and childcare, makeup, restrictive clothing, or the sexual subordination required by membership in certain religious groups. In this book, Clare Chambers argues that this predicament poses a fundamental challenge to many existing liberal and multicultural theories that dominate contemporary political philosophy.
Chambers argues that a theory of justice cannot ignore the influence of culture and the role it plays in shaping choices. If cultures shape choices, it is problematic to use those choices as the measure of the justice of the culture. Drawing upon feminist critiques of gender inequality and poststructuralist theories of social construction, she argues that we should accept some of the multicultural claims about the importance of culture in shaping our actions and identities, but that we should reach the opposite normative conclusion to that of multiculturalists and many liberals. Rather than using the idea of social construction to justify cultural respect or protection, we should use it to ground a critical stance toward cultural norms. The book presents radical proposals for state action to promote sexual and cultural justice.
Contents
Acknowledgments
Introduction
Part One: Theories of Social Construction
1. Creativity, Cultural Practice, and the Body: Foucault and Three Problems with the Liberal Focus on Choice
2. Masculine Domination, Radical Feminism, and Change
3. Social Construction, Normativity, and Difference
Part Two: Liberalism, Culture, and Autonomy
4. All Must Have Prizes: The Liberal Case for Interference in Cultural Practices
5. Two Orders of Autonomy and Political Liberalism: Breast Implants Versus Female Genital Mutilation
6. Paternalism and Autonomy
7. Liberal Perfectionism and the Autonomy of Restricted Lives
Conclusion
Bibliography
Index
Other Ways to Acquire
Buy from Amazon.com

Buy from an Independent Bookstore
Buy from Powell's Books
Buy from Barnes and Noble.com
Find in a Library
Get the
Kindle Edition
Get the
Google Play Edition
Join
Sign up for e-mail notifications about new books and catalogs!
Related Subjects
Also of Interest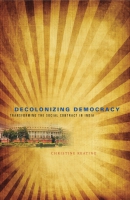 Transforming the Social Contract in India