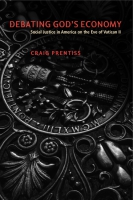 Debating God's Economy
Social Justice in America on the Eve of Vatican II
Copyright: 2008
Dimensions: 6 x 9
Page Count: 280 pages
Hardcover ISBN: 978-0-271-03341-9
Paperback ISBN: 978-0-271-05876-4
Hardcover Edition: $61.95
Paperback Edition: $25.95
"This is a skillfully contextualized, intelligent, and empathetic study of the authors, activists, and social scientists on all sides of the debate that rocked the American Catholic Church between the Depression and Vatican II. It raises new and fruitful questions about the nature and workings of the American Catholic community on the eve of Vatican II."
"Prentiss has written a solid and insightful study of the topic that deserves to be incorporated into the history of what has been called 'the Church's best-kept secret': Catholic social teaching. . . . The critical distance maintained with the aid of an overall approach from religious studies is on balance a great boon to historical understanding."
What would a divinely ordained social order look like? Pre–Vatican II Catholics, from archbishops and theologians to Catholic union workers and laborers on U.S. farms, argued repeatedly about this in the late nineteenth and early twentieth centuries. Debating God's Economy is a history of American Catholic economic debates taking place during the generation preceding Vatican II. At that time, American society was rife with sociopolitical debates over the relative merits and dangers of Marxism, capitalism, and socialism; labor unions, class consciousness, and economic power were the watchwords of the day. This was a time of immense social change, and, especially in the light of the monumental social and economic upheavals in Russia and Europe in the early twentieth century, Catholics found themselves taking sides. Catholic subcultures across America sought to legitimize—or, in theological parlance, "sanctify"—diverse economic systems that were, at times, mutually exclusive. While until now the faithful—both scholars and nonscholars—have typically spoken of "the Catholic Social Tradition" as if it were an established prescription for curing social ills, Prentiss maintains that the tradition is better understood as a debate grounded in a common mythology that provides Catholics with a distinctive vocabulary and touchstone of authority.
Contents
List of Acronyms
Acknowledgments
Introduction
1. The Encyclicals
2. Sanctifying Life on the Land
3. Sanctifying Industrial Labor
4. Sanctifying American Capitalism
5. Catholics and Right-to-Work Laws
6. Industry Councils
Conclusion
Bibliography
Index
Other Ways to Acquire
Buy from Amazon.com

Buy from an Independent Bookstore
Buy from Powell's Books
Buy from Barnes and Noble.com
Find in a Library
Join
Sign up for e-mail notifications about new books and catalogs!
Related Subjects