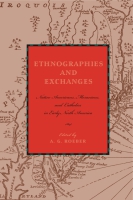 Ethnographies and Exchanges
Native Americans, Moravians, and Catholics in Early North America
"The anthology succeeds in recovering Native as well as missionary voices, carefully building context to make those voices understandable to contemporary readers and reintroducing these important texts in exciting ways that will stimulate further study."
"This volume's greatest accomplishment well may be its attempt to elevate David Zeisberger to the status of reliable ethnographer as well as Christian missionary."
"Taken as a whole, this collection brings needed scholarly attention to important epistemological and historical questions for mission and native history."
Early Europeans settling in America would never have survived without the help of Native American groups. Though histories of early America acknowledge this today, that has not always been the case, and even today much work needs to be done to appreciate more fully the nature of the interactions between the settlers and the "First Peoples" and to hear the impressions of, and exchanges between, these two groups. We also have much to learn about Native Americans as people—their cultures, their languages, their views of the world, and their religious beliefs—and about their impressions of the early settlers.
One avenue to recovering the history of these relations examines early records that sought to understand the First Peoples scientifically. Missionaries were among those who chronicled the exchange between early settlers and Native Americans. The diaries, letters, and journals of these early ethnographers are among the most valuable resources for recovering the languages, religions, cultures, and political makeup of the First Peoples. This volume explores the interactions of two seventeenth- and eighteenth-century European settlement peoples with Native Americans: German-speaking Moravian Protestants and French-speaking Roman Catholics. These two European groups have provided some of the richest records of the exchange between early settlers and Native Americans.
Editor A. G. Roeber introduces the volume, whose chapters—by an international cast of contributors—are grouped in three parts: Texts and Interpretive Perspectives, Missions and Exchanges, and Indigenous Perspectives.
Contents
Preface
A. G. Roeber
"This Much Admired Man": Isaac Glikhikan, Moravian Delaware
David Edmunds
I. Texts and Interpretive Perspectives
1. Moravians and the Development of the Genre of Ethnography
Christian F. Feest
2. The Succession of Head Chiefs and the Delaware Culture of Consent: The Delaware Nation,
David Zeisberger, and Modern Ethnography
Hermann Wellenreuther
3. Zeisberger's Diaries as a Source for Studying Delaware Sociopolitical Organization
Robert S. Grumet
II. Missions and Exchanges
4. The Impossible Acculturation: French Missionaries and Cultural Exchanges in the Seventeenth Century
Dominique Deslandres
5. The Holy See and the Conversion of Aboriginal Peoples in North America, 1760–1830
Luca Codignola
6. Policing Wabanaki Missions in the Seventeenth Century
Christopher J. Bilodeau
7. The Moravian Missionaries of Bethlehem and Salem
Rowena McClinton
8. "Incline Your Second Ear This Way": Song as a Cultural Mediator in Moravian Mission Towns
Walter W. Woodward
III. Indigenous Perspectives
9. Munsee Social Networking and Political Encounters with the Moravian Church
Siegrun Kaiser
10. The Gender Frontier Revisited: Native American Women in the Age of Revolution
Jane T. Merritt
11. A Footing Among Them: Haudenosaunee Perspectives on Land Cessions, Government Relations, and Christianity
Alyssa Mt. Pleasant
IV. Conclusion
12. Translation as a Prism: Broadening the Spectrum of Eighteenth-Century Identity
Julie Tomberlin Weber
Index
Other Ways to Acquire
Buy from Amazon.com

Buy from an Independent Bookstore
Buy from Powell's Books
Buy from Barnes and Noble.com
Find in a Library
Get the
Google Play Edition
Join
Sign up for e-mail notifications about new books and catalogs!
Related Subjects
Also of Interest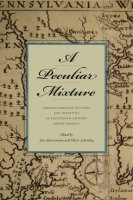 German-Language Cultures and Identities in Eighteenth-Century North America