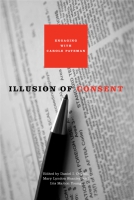 Illusion of Consent
Engaging with Carole Pateman
Copyright: 2008
Dimensions: 6 x 9
Page Count: 264 pages
Hardcover ISBN: 978-0-271-03351-8
Paperback ISBN: 978-0-271-03352-5
"An impressive collection of essays from many of the leading social and political theorists writing today. The essays develop important new arguments and compose a fitting tribute to Carole Pateman, whose work has had such a major impact, and who offers here a fine afterword."
"It is difficult to imagine the terrain of recent work in democratic theory without the contributions of Carole Pateman. In this volume some of our most important contemporary theorists take up Pateman's critique of the politics of consent. The conversation that unfolds illuminates and refines not only Pateman's own work but more general concerns about the relationship between power and meaningful consent. An outstanding collection of essays."
"These essays celebrate, challenge, and apply the significant contributions of Carole Pateman to the field of political theory."
"These papers make a welcome contribution to the explication, expansion, and interpretation of Pateman's views. The authors really do engage with Pateman's philosophy; they don't simply free-associate with key words in her writing. The essays genuinely honor her contributions to political theory and the defense of a practical political agenda."
For nearly four decades, the writings of Carole Pateman have been regarded as major contributions to debates within political philosophy and feminist theory. She is the recipient of the 2012 Johan Skytte Prize in political science for "in a thought-provoking way challenging established ideas about participation, sex and equality." By critiquing conventional notions of consent at the heart of much modern political thought—hence the title for this volume—Pateman has been a central voice in discussions of such important topics as political participation and democracy, contract theory and sexual equality, liberalism and the problem of political obligation, and most recently social citizenship, welfare, and basic income. These essays, all prepared especially for this volume, deal with issues that have been central to Pateman's work. The authors critically engage with her work while making their own original contributions and advancing ongoing debates.
Contents
Preface
Introduction
Daniel I. O'Neill, Mary Lyndon Shanley, and Iris Marion Young
Part I. Liberalism and Contract
1. Carole Pateman: Radical Liberal?
Jane Mansbridge
2. Paradoxes of Liberal Politics: Contracts, Rights, and Consent
Moira Gatens
3. The Domination Contract
Charles W. Mills
4. Human Rights and the Epistemology of Social Contract Theory
Brooke A. Ackerly
Part II. Autonomy and Consent
5. Free to Decide for Oneself
Anne Phillips
6. Women's Work: Its Irreplaceability and Exploitabilty
Robert E. Goodin
7. A Democratic Defense of Universal Basic Income
Michael Goodhart
III. Democracy, Political Participation, and Welfare
8. Participation Revisited: Carole Pateman vs. Joseph Schumpeter
Alan Ryan
9. Participation, Deliberation, and We-thinking
Philip Pettit
10. Deliberative Democracy, Subordination, and the Welfare State
John Medearis
Afterword
Carole Pateman
List of Contributors
Index
Other Ways to Acquire
Buy from Amazon.com

Buy from an Independent Bookstore
Buy from Powell's Books
Buy from Barnes and Noble.com
Find in a Library
Get the
Google Play Edition
Join
Sign up for e-mail notifications about new books and catalogs!
Related Subjects
Also of Interest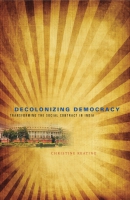 Transforming the Social Contract in India