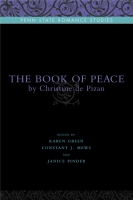 The Book of Peace
Copyright: 2008
Dimensions: 6 x 9
Page Count: 360 pages
Hardcover ISBN: 978-0-271-03396-9
Paperback ISBN: 978-0-271-03397-6
Series Name: Penn State Romance Studies
"An impressive work of erudition and collaborative scholarship. There is much to admire here."
Christine de Pizan, one of the earliest known women authors, wrote the Livre de paix (Book of Peace) between 1412 and 1414, a period of severe corruption and civil unrest in her native France. The book offered Pizan a platform from which to expound her views on contemporary politics and to put forth a strict moral code to which she believed all governments should aspire. The text's intended recipient was the dauphin, Louis of Guyenne; Christine felt that Louis had the political and social influence to fill a void left by years of incompetent leadership. Drawing in equal parts from the Bible and from classical ethical theory, the Livre de paix was revolutionary in its timing, viewpoint, and content.
This volume, edited by Karen Green, Constant J. Mews, and Janice Pinder, boasts the first full English translation of Pizan's work along with the original French text. The editors also place the Livre de paix in historical context, provide a brief biography of Pizan, and offer insight into the translation process.
Contents
Acknowledgments
List of Abbreviations
Introduction
Karen Green
Sources of Le Livre de paix
Constant J. Mews
Description of the Manuscripts
Tania van Hemelryck
Note on the Text
Janice Pinder
The Book of Peace
Part 1
Part 2
Part 3
Le Livre de paix
Part 1
Part 2
Part 3
Appendix: Table of Sources
Bibliography
Index
Other Ways to Acquire
Buy from Amazon.com

Buy from an Independent Bookstore
Buy from Powell's Books
Buy from Barnes and Noble.com
Find in a Library
Get the
Google Play Edition
Join
Sign up for e-mail notifications about new books and catalogs!
Related Subjects