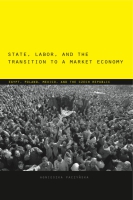 State, Labor, and the Transition to a Market Economy
Egypt, Poland, Mexico, and the Czech Republic
Copyright: 2009
Dimensions: 6 x 9
Page Count: 288 pages
Hardcover ISBN: 978-0-271-03436-2
"In explaining the variation in the ability of labor organizations to determine the nature and pace of privatization design and implementation, Paczyńska thoughtfully examines the historical legacies of state-labor interactions and shows how past interactions influenced the resources available to labor when lobbying for particular strategies of structural reform. Scholars of privatization, labor politics, postcommunist transition, and structural adjustment will all value the clarity and empirical richness of this work."
"In this ambitious and innovative study, Paczyńska draws upon an unusual pairing of very different countries—Poland and Egypt, Mexico and the Czech Republic—to produce an important addition to the comparative literature on organized labor and market reform."
In response to mounting debt crises and macroeconomic instability in the 1980s, many countries in the developing world adopted neoliberal policies promoting the unfettered play of market forces and deregulation of the economy and attempted large-scale structural adjustment, including the privatization of public-sector industries. How much influence did various societal groups have on this transition to a market economy, and what explains the variances in interest-group influence across countries?
In this book, Agnieszka Paczyńska explores these questions by studying the role of organized labor in the transition process in four countries in different regions—the Czech Republic and Poland in eastern Europe, Egypt in the Middle East, and Mexico in Latin America. In Egypt and Poland, she shows, labor had substantial influence on the process, whereas in the Czech Republic and Mexico it did not. Her explanation highlights the complex relationship between institutional structures and the "critical junctures" provided by economic crises, revealing that the ability of groups like organized labor to wield influence on reform efforts depends to a great extent on not only their current resources (such as financial autonomy and legal prerogatives) but also the historical legacies of their past ties to the state.
Contents
List of Tables
Acknowledgments
List of Abbreviations
Introduction
1 Parties, Unions, and Economic Reforms
2 Ruling Parties, Organized Labor, and Transitions to Democracy: Poland and Czechoslovakia
3 Ruling Parties, Organized Labor, and Continued Authoritarianism: Egypt and Mexico
4 Labor and Privatization in Poland
5 Labor and Privatization in Egypt
6 Labor and Privatization in the Czech Republic and Mexico
Conclusion
Bibliography
Index
Other Ways to Acquire
Buy from Amazon.com

Buy from an Independent Bookstore
Buy from Powell's Books
Buy from Barnes and Noble.com
Find in a Library
Get the
Kobo Edition
Get the
Kindle Edition
Get the
iBook Edition
Join
Sign up for e-mail notifications about new books and catalogs!
Related Subjects
This book is a part of the Association of American University Presses'
Books for Understanding: Egypt
book list, created to help all of us better understand the world we live in.
Knowledge, Not just information