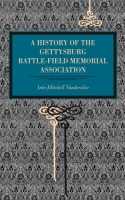 Gettysburg
A History of the Gettysburg Battle-field Memorial Association with an Account of the Battle Giving Movements, Positions, and Losses of the Commands Engaged
Copyright: 1897
Dimensions: 5 x 8
Page Count: 320 pages
Paperback ISBN: 978-0-271-03458-4
Series Name: Metalmark
Paperback Edition: $35.95
This book is available open access. Read it here.
---
John Mitchell Vanderslice's Gettysburg offers an overarching history of the Battle of Gettysburg and describes the Gettysburg Battlefield Memorial Association's origins and accomplishments. The Memorial Association, established by an act of the Pennsylvania legislature in 1864, aimed to preserve and protect the battlefield grounds and gather information about the battle. It helped acquire land from private owners and oversaw the creation of monuments, avenues, and signs—laying the foundation for today's Gettysburg National Military Park.
This volume, published in 1897, provides a history of the Memorial Association as well as an overview of the battlefield, the armies, and the three days of battle at Gettysburg, including breakdowns of reported losses for each brigade on each part of the battlefield. Vanderslice also includes a history of the Gettysburg National Cemetery—the first national cemetery fully devoted to the burial of soldiers—with notes on its establishment, design, graves, organization, and dedication. The volume concludes with a detailed listing of each state's representation on the battlefield and memorial markers.
View a digital version of this book online at the Penn State University Libraries website.
Other Ways to Acquire
Buy from Amazon.com

Buy from an Independent Bookstore
Buy from Powell's Books
Buy from Barnes and Noble.com
Find in a Library
Join
Sign up for e-mail notifications about new books and catalogs!
Related Subjects