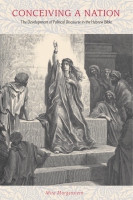 Conceiving a Nation
The Development of Political Discourse in the Hebrew Bible
Copyright: 2009
Dimensions: 6 x 9
Page Count: 240 pages
Hardcover ISBN: 978-0-271-03473-7
Paperback ISBN: 978-0-271-03474-4
Hardcover Edition: $72.95
Paperback Edition: $30.95
"Mira Morgenstern is a deep reader of biblical texts, and her readings give us a new and provocatively modern understanding of Israelite nationhood—constructed, as it were, from the margins, by dreamers, strangers, and women, among others. This is an illuminating and exciting book."
"Political theorists and biblical scholars have shown an increased interest recently in the political character of the Hebrew Bible. Mira Morgenstern's Conceiving a Nation is a noteworthy addition to the burgeoning academic literature on the subject. Morgenstern focuses on six examples—Joseph, Moses, three figures from the period of the judges (Ruth, Jotham, and Samson), and Esther. She uses these examples to argue that the political discourse of the Hebrew Bible is characterized by the persistent theme of strangeness/difference, which not only distinguishes the biblical text from more traditional works for political theory, but also makes it especially relevant to our own time. Morgenstern's book is influenced by and, in turn, will influence discussion in the fields of political theory and biblical studies as well as feminist and literary studies."
"[This] book is a significant contribution to the political theory of ancient Israel. . . . Using a literary approach for reading biblical narratives, Morgenstern masterfully presents many political implications in the Hebrew scriptures with interpretations that are original and insightful."
Current conflicts in both national and international arenas have undermined the natural, organic concept of nationhood as conventionally espoused in the nineteenth century. Conceiving a Nation argues that the modern understanding of the nation as a contested concept—as the product of a fluid and ongoing process of negotiation open to a range of livable solutions—is actually rooted in the Bible.
This book draws attention to the contribution that the Bible makes to political discourse about the nation. The Bible is particularly well suited to this open-ended discourse because of its own nature as a text whose ambiguity and laconic quality render it constantly open to new interpretations and applicable to changing circumstances. The Bible offers a pluralistic understanding of different models of political development for different nations, and it depicts altering concepts of national identity over time.
In this book, Morgenstern reads the Bible as the source of a dynamic critique of the ideas that are conventionally considered to be fundamental to national identity, treating in successive chapters the ethnic (Ruth), the cultural (Samson), the political (Jotham), and the territorial (Esther). Throughout, she explores a number of common themes, such as the relationship of women to political authority and the "strangeness" of Israelite political existence. In the Conclusion, she elucidates how biblical analysis can aid in recognition of modern claims to nationhood.
Contents
Preface
Introduction
1 Joseph: The Politics of Dreaming
2 Moses: The Politics of Alienation
3 Ruth: The Politics of Difference
4 Jotham: The Politics of Parable
5 Samson: The Politics of Riddling
6 Esther: The Politics of Metaphor
Conclusion
Bibliography
Index
Other Ways to Acquire
Buy from Amazon.com

Buy from an Independent Bookstore
Buy from Powell's Books
Buy from Barnes and Noble.com
Find in a Library
Get the
Kobo Edition
Get the
Kindle Edition
Get the
iBook Edition
Join
Sign up for e-mail notifications about new books and catalogs!
Related Subjects