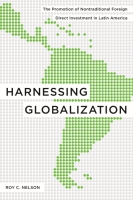 Harnessing Globalization
The Promotion of Nontraditional Foreign Direct Investment in Latin America
Copyright: 2009
Dimensions: 6 x 9
Page Count: 280 pages
Hardcover ISBN: 978-0-271-03513-0
Paperback ISBN: 978-0-271-03514-7
Hardcover Edition: $72.95
Paperback Edition: $30.95
"Roy Nelson's research has shed light on an immensely important subject and offered a new understanding of the way that investment promotion agencies (IPAs) can make a difference in the decisions of corporations with global reach. Nelson uses the comparative method intelligently through the careful design of qualitative comparisons that span multiple cases within Latin America, traverse the national-subnational divide, and include cross-regional comparisons of archetypal cases for good measure. The research, based on extensive interviews with IPA officials and politicians, official documents, and secondary sources, is extremely well crafted, with rich detail and nuanced analysis. This enables Nelson to take the reader into the thinking of public officials in a way that only the most finely done fieldwork can make possible."
"Latin American countries are in the throes of redefining their policies toward foreign direct investment in order to harness the forces of globalization to the structural transformation of their own economies. Professor Nelson's book is a 'must-read' for policy makers and academics interested in this process and in the practical lessons that can be derived from the experiences of Costa Rica, Brazil, Chile, Ireland, and Singapore."
"This book is a fascinating account of the comparative strategies of Brazil, Costa Rica, and Chile to attract foreign direct investment. In particular, it concentrates on those foreign investors who can bring in high technology, new services, and research and development. Modern development theories now accept the fact that quality foreign investments can both contribute to the economic growth rate of a country and become a key pillar for long-term development in less developed countries. Harnessing Globalization focuses on providing solid evidence for the Asiatic and European models. These comparative policies should be considered by countries that are still thought of as newcomers in this grand strategic game."
"While the focus of the book is Latin America, Nelson also provides cases from Ireland and Singapore, adding breadth to the applicability of the conclusions. This volume will be of value to students and practitioners of international business, public policy, and development economics."
How can countries in the underdeveloped world position themselves to take best advantage of the positive economic benefits of globalization? One avenue to success is the harnessing of foreign direct investment (FDI) in the "nontraditional" forms of the high-technology and service sectors, where an educated workforce is essential and the spillover effects to other sectors are potentially very beneficial. In this book, Roy Nelson compares efforts in three Latin American countries—Brazil, Chile, and Costa Rica—to attract nontraditional FDI and analyzes the reasons for their relative success or failure. As a further comparison, he uses the successes of FDI promotion in Ireland and Singapore to help refine the analysis. His study shows that two factors, in particular, are critical. First is the government's autonomy from special interest groups, both domestic and foreign, arising from the level of political security enjoyed by government leaders. The second factor is the government's ability to learn about prospective investors and the inducements that are most important to them—what he calls "transnational learning capacity." Nelson draws lessons from his analysis for how governments might develop more effective strategies for attracting nontraditional FDI.
Other Ways to Acquire
Buy from Amazon.com

Buy from an Independent Bookstore
Buy from Powell's Books
Buy from Barnes and Noble.com
Find in a Library
Get the
Kobo Edition
Get the
iBook Edition
Join
Sign up for e-mail notifications about new books and catalogs!
Related Subjects
Also of Interest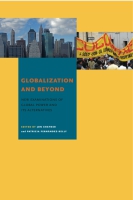 New Examinations of Global Power and Its Alternatives