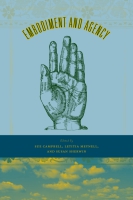 Embodiment and Agency
Copyright: 2009
Dimensions: 6 x 9
Page Count: 288 pages
Illustrations: 3 illustrations
Hardcover ISBN: 978-0-271-03522-2
Hardcover Edition: $72.95
Website Sale Price: $36.48, You save 50% Add to Cart
"Bridging the gap that too often exists between theories of agency and embodiment, this exciting collection examines how bodies are agenetic and how human agency in the world is embodied. This volume will be welcomed by feminists and others who are interested in the ethical, political, economic, and global dimensions of human bodily agency."
"The essays contained in this volume offer fascinating philosophical, religious, scientific, historical, and political reflections on what it means to express (and fail to express) agency in and through one's bodily interactions with other bodies. Above all, Embodiment and Agency reveals the diverse ways in which the experience of agency is always already embodied, thereby countering traditional liberal views that identify agency with conscious activity or a particular set of cognitive capacities."
Themes of embodiment and agency have long been central to feminist philosophical thought and have increasingly led feminists to extend their theorizing to encompass a range of identities shaped by processes of gender, race, class, disability, and sexuality. The intersection of these themes, however, has often been limited to analyzing how specific modes of socialized embodiment can be impediments to agency or autonomy.
Embodiment and Agency is distinctive in bringing a remarkable range of theoretical perspectives and resources to the project in ways that stress possibilities as well as constraints. Contributors utilize, for example, phenomenology, psychoanalysis, care ethics, analytic philosophy, Hegelian critique, and postcolonial theory to examine embodiment and agency in contexts ranging from a child's struggle to find her own identity to global politics. The volume is integrated through its theme, through an introductory essay situating the contributions in relation to each other and to current feminist theory on agency, and through the structuring of the contents into two distinct sections.
Part I, "Becoming Embodied Subjects," explores how we become individually and collectively identified subjects through the possibilities for agency that arise from specific modes of embodiment. Part II, "Embodied Relations: Political Contexts," continues the theme of embodied agency in contemporary sociopolitical contexts. It challenges the reader to reconceptualize the links between embodiment and moral agency in ways adequate to political realities, personal relationships, and collective responsibilities.
Contents
Acknowledgments
Introduction: Minding Bodies
Letitia Meynell
Part I: Becoming Embodied Subjects
1. Emotional Metamorphoses: The Role of Others in Becoming a Subject
Kym Maclaren
2. Racial Grief and Melancholic Agency
Angela Failler
3. A Knowing That Resided in My Bones: Sensuous Embodiment and Trans Social Movement
Alexis Shotwell
4. The Phrenological Impulse and the Morphology of Character
Rebecca Kukla
5. Personal Identity, Narrative Integration, and Embodiment
Catriona Mackenzie
6. Bodily Limits to Autonomy: Emotion, Attitude, and Self-Defense
Sylvia Burrow
Part II: Embodied Relations, Political Contexts
7. Relational Existence and Termination of Lives: When Embodiment Precludes Agency
Susan Sherwin
8. A Body No Longer of One's Own
Monique Lanoix
9. Premature (M)Othering: Levinasian Ethics and the Politics of Fetal Ultrasound Imaging
Jacqueline M. Davies
10. Inside the Frame of the Past: Memory, Diversity, and Solidarity
Sue Campbell
11. Collective Memory or Knowledge of the Past: "Covering Reality with Flowers"
Susan E. Babbitt
12. Agency and Empowerment: Embodied Realities in a Globalized World
Christine Koggel
List of Contributors
Index
Other Ways to Acquire
Buy from Amazon.com

Buy from an Independent Bookstore
Buy from Powell's Books
Buy from Barnes and Noble.com
Find in a Library
Get the
Google Play Edition
Join
Sign up for e-mail notifications about new books and catalogs!
Related Subjects
Also of Interest
Race, Gender, and Implicit Understanding