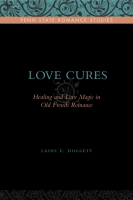 Love Cures
Healing and Love Magic in Old French Romance
Copyright: 2009
Dimensions: 6 x 9
Page Count: 304 pages
Hardcover ISBN: 978-0-271-03530-7
Paperback ISBN: 978-0-271-03531-4
Series Name: Penn State Romance Studies
Hardcover Edition: $82.95
Paperback Edition: $41.95
This book is available open access. Read it here.
"In this appealing study, [Laine Doggett] traces romantic love as a form of intoxication back to the Middle Ages and endeavors to demystify the concept of love magic through an analysis of several romances in which love and healing are intertwined."
What is love? Popular culture bombards us with notions of the intoxicating capacities of love or of beguiling women who can bewitch or heal—to the point that it is easy to believe that such images are timeless and universal. Not so, argues Laine Doggett in Love Cures. Aspects of love that are expressed in popular music—such as "love is a drug," "sexual healing," and "love potion number nine"—trace deep roots to Old French romance of the high Middle Ages. A young woman heals a poisoned knight. A mother prepares a love potion for a daughter who will marry a stranger in a faraway land. How can readers interpret such events? In contrast to scholars who have dismissed these women as fantasy figures or labeled them "witches," Doggett looks at them in the light of medical and magical practices of the high Middle Ages. Love Cures argues that these practitioners, as represented in romance, have shaped modern notions of love. Love Cures seeks to engage scholars of love, marriage, and magic in disciplines as diverse as literature, history, anthropology, and philosophy.
Contents
Acknowledgments
Introduction
1. Background Considerations
2. On Artifice and Realism: Thessala in Chrétien de Troyes's Cligés
3. Tristan and Iseut:
Beyond a Symbolic Reading of Empirical Practice
4. Tristan and Iseut: Empirical Practice Amidst Competing Claims
5. Love and Medicine in the Roman de Silence
6. Reworked Elements in Amadas et Ydoine
Conclusion
Bibliography
Index
Other Ways to Acquire
Buy from Amazon.com

Buy from an Independent Bookstore
Buy from Powell's Books
Buy from Barnes and Noble.com
Find in a Library
Get the
Kobo Edition
Get the
Kindle Edition
Get the
iBook Edition
Join
Sign up for e-mail notifications about new books and catalogs!
Related Subjects
Also of Interest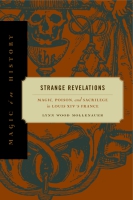 Magic, Poison, and Sacrilege in Louis XIV's France