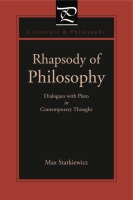 Rhapsody of Philosophy
Dialogues with Plato in Contemporary Thought
Copyright: 2009
Dimensions: 6 x 9
Page Count: 224 pages
Hardcover ISBN: 978-0-271-03540-6
Paperback ISBN: 978-0-271-03541-3
Series Name: Literature and Philosophy
Hardcover Edition: $61.95
Paperback Edition: $34.95
"This book is well written and largely avoids jargon. Topics discussed include the role of representation, the relationship between beauty and truth, and the question of discourse and its relationship to the world. This volume is suitable for both undergraduates and graduate students in philosophy, literature, and allied fields."
This book proposes to rethink the relationship between philosophy and literature through an engagement with Plato's dialogues. The dialogues have been seen as the source of a long tradition that subordinates poetry to philosophy, but they may also be approached as a medium for understanding how to overcome this opposition. Paradoxically, Plato then becomes an ally in the attempt "to overturn Platonism," which Gilles Deleuze famously defined as the task of modern philosophy. Max Statkiewicz identifies a "rhapsodic mode" initiated by Plato in the dialogues and pursued by many of his modern European commentators, including Nietzsche, Heidegger, Irigaray, Derrida, and Nancy. The book articulates this rhapsodic mode as a way of entering into true dialogue (dia-logos), which splits any univocal meaning and opens up a serious play of signification both within and between texts. This mode, he asserts, employs a reading of Plato that is distinguished from interpretations emphasizing the dialogues as a form of dogmatic treatise, as well as from the dramatic interpretations that have been explored in recent Plato scholarship—both of which take for granted the modern notion of the subject. Statkiewicz emphasizes the importance of the dialogic nature of the rhapsodic mode in the play of philosophy and poetry, of Platonic and modern thought—and, indeed, of seriousness and play. This highly original study of Plato explores the inherent possibilities of Platonic thought to rebound upon itself and engender further dialogues.
Other Ways to Acquire
Buy from Amazon.com

Buy from an Independent Bookstore
Buy from Powell's Books
Buy from Barnes and Noble.com
Find in a Library
Get the
Kobo Edition
Get the
Kindle Edition
Get the
iBook Edition
Join
Sign up for e-mail notifications about new books and catalogs!
Related Subjects
Also of Interest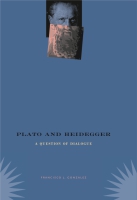 A Question of Dialogue