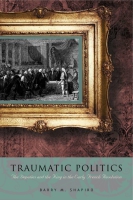 Traumatic Politics
The Deputies and the King in the Early French Revolution
Copyright: 2009
Dimensions: 6 x 9
Page Count: 216 pages
Hardcover ISBN: 978-0-271-03542-0
Paperback ISBN: 978-0-271-03557-4
Hardcover Edition: $72.95
Paperback Edition: $30.95
"Barry Shapiro addresses in original fashion a classic question about the failure of constitutional monarchy in Revolutionary France. He has mastered the events and debates of the Revolution's first years, but he replaces traditional political and ideological explanations with insights from trauma research. In a work of creativity and daring, he explores the logic and illogic of political decision making in stressful times."
"Barry Shapiro's provocative psychological analysis of the 'trauma' induced by the French Revolution may not convince every reader. But the analysis itself is both careful and creative. Shapiro is simply too well acquainted with the history of the French Revolution—and too good a historian—to be taken lightly."
"Shapiro has taken an innovative approach, and his arguments are compelling. His coverage of the important debates in the Assembly is impressive."
"Shapiro's interdisciplinary analysis opens new perspectives. He notes that the same momentum is observable in modern-day revolutions, this lending credence to his thesis. While most of the material is quoted in English, he has faithfully consulted French sources. His work is readable and persuasive, and hopefully will join the recent scholarship on the French Revolution."
"Traumatic Politics is an important book that expands current understanding of the Constituent Assembly. Shapiro is undoubtedly correct in recognising and attempting to explain the deputies' ambivalent and constantly shifting attitudes toward Louis XVI. His sophisticated and careful analysis of the representatives' letters and diaries and the assembly proceedings provides considerable insight into the deputies' attitudes toward the king. His interpretation of the important political debates regarding monarchical authority is illuminating. . . . He has demonstrated the extent of the deputies' fear of royal retribution in the early summer of 1789. He makes a convincing case that one cannot discount the memory of this experience in explaining the deputies' conduct in the Constituent Assembly."
The opening events of the French Revolution have stood as some of the most familiar in modern European history. Traumatic Politics emerges as a fresh voice from the existing historiography of this widely studied course of events. In applying a psychological lens to the classic problem of why the French Revolution's first representative assembly was unable to reach a workable accommodation with Louis XVI, Barry Shapiro contends that some of the key political decisions made by the Constituent Assembly were, in large measure, the product of traumatic reactions to the threats to the lives of its members in the summer of 1789. As a result, Assembly policy frequently reflected a preoccupation with what had happened in the past rather than active engagement with present political realities.
In arguing that the manner in which the Assembly dealt with the king bears the imprint of the behavior that typically follows exposure to traumatic events, Shapiro focuses on oscillating periods of traumatic repetition and traumatic denial. Highlighting the historical impact of what could be viewed as a relatively "mild" trauma, he suggests that trauma theory has a much wider field of potential applicability than that previously established by historians, who have generally confined themselves to studying the impact of massively traumatic events such as war and genocide. Moreover, in emphasizing the extent to which monarchical loyalties remained intact on the eve of the Revolution, this book also challenges the widely accepted contention that prerevolutionary cultural and discursive innovations had "desacralized" the king well before 1789.
Contents
Acknowledgments
Introduction
Prologue to Part I
1. Arrival in Versailles
2 .The King and His Evil Advisers
3. Defiance at the Jeu de Paume
4. The Royal Session of 23 June
5. The Réunion of 27 June
6. The July Crisis
7. The Immediate Aftermath of the July Crisis
Prologue to Part II
8. An Incident at the Abbaye
9. The Passage of the Suspensive Veto
10. Mirabeau and the Exclusion of Deputies from the Ministry
11. Royal Military Power and the Lingering Effects of Trauma
Conclusion
Selected Bibliography
Index
Other Ways to Acquire
Buy from Amazon.com

Buy from an Independent Bookstore
Buy from Powell's Books
Buy from Barnes and Noble.com
Find in a Library
Get the
Kobo Edition
Get the
Kindle Edition
Get the
iBook Edition
Join
Sign up for e-mail notifications about new books and catalogs!
Related Subjects