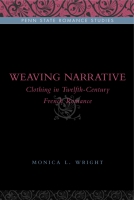 Weaving Narrative
Clothing in Twelfth-Century French Romance
Copyright: 2010
Dimensions: 6 x 9
Page Count: 192 pages
Hardcover ISBN: 978-0-271-03565-9
Paperback ISBN: 978-0-271-03566-6
Series Name: Penn State Romance Studies
Hardcover Edition: $61.95
Paperback Edition: $35.95
"In remarkably fluid prose, Wright brilliantly demonstrates that vestimentary depictions in twelfth-century French romance functioned as signifiers with multiple levels of meaning. This book weaves a solid connection between material culture and literary expression during a crucial period in the development of vernacular literature in the Middle Ages."
"Wright's remarkable analysis of clothing and vestimentary acts in twelfth-century French romance yields stunning new insights into works we thought we knew by heart. Relating the history of costume and material culture to the process of writing, Wright skillfully reveals how clothing is worked into the very weave of the text, which it both structures and embellishes."
"[Weaving Narrative] provides a fascinating lens through which to look at twelfth-century literary creation."
Enide's tattered dress and Erec's fabulous coronation robe; Yvain's nudity in the forest, which prevents maidens who know him well clothed from identifying him; Lanval's fairy-lady parading about in the Arthurian court, scantily dressed, for all to observe: just why is clothing so important in twelfth-century French romance? This interdisciplinary book explores how writers of this era used clothing as a signifier with multiple meanings for many narrative purposes. Clothing figured prominently in twelfth-century France, where exotic fabrics and furs came to define a social elite. Monica Wright shows that representations of clothing are not mere embellishments to the text; they help form the textual weave of the romances in which they appear. This book is about how these descriptions are constructed, what they mean, and how clothing becomes an active part of romance composition—the ways in which writers use it to develop and elaborate character, to advance or stall the plot, and to structure the narrative generally.
Contents
Acknowledgments
Introduction
1. Romance and the Fabric of Feudal Society: Conjointure and Change
2. Material Matters: Clothing in Changing Contexts
3. Dressing Up the Character: The Elucidation of Characters Through Clothing
4. Clothing Acts and the Movement from Code to Signifying System
5. Clothing as a Structuring, Thematic, and Narrative Device: The Art of Weaving Romance
Conclusion
Bibliography
Index
Other Ways to Acquire
Buy from Amazon.com

Buy from an Independent Bookstore
Buy from Powell's Books
Buy from Barnes and Noble.com
Find in a Library
Get the
Kobo Edition
Get the
Kindle Edition
Get the
iBook Edition
Join
Sign up for e-mail notifications about new books and catalogs!
Related Subjects