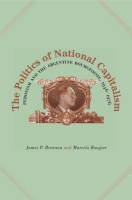 The Politics of National Capitalism
Peronism and the Argentine Bourgeoisie, 1946–1976
Copyright: 2009
Dimensions: 6 x 9
Page Count: 248 pages
Hardcover ISBN: 978-0-271-03571-0
Paperback ISBN: 978-0-271-03572-7
Paperback Edition: $35.95
"This is an excellent, challenging volume by two distinguished scholars. It addresses perennial, pressing issues in contemporary Argentinean development—the formation and stance of the national bourgeoisie. Central to this story is Peronism, a subject that the authors have made their own. The book provides a timely revision of a period that, although once much studied, has been neglected in recent years. It also offers insights into contemporary post–Second World War industrialization projects essayed elsewhere in Latin America and formulates a distinct framework—the new business history—that is relevant for the analysis of peripheral capitalist classes elsewhere in a rapidly globalizing world economy."
"Brennan and Rougier have written a masterful account of state-business relations during a watershed moment in Argentinean history. The Politics of National Capitalism follows in the rich tradition of political economy studies, but breathes new life into the field's central concerns through its innovative research and scope of analysis. Rather than focusing on dominant agriculturalists and industrialists, as has often been the norm, this book looks more broadly at the business community, including neglected provincial sectors and commercial enterprises. Quantitative treatments of public policy are combined with insightful profiles of major trade groups and business leaders. This work is, quite simply, required reading for all those interested in the connections between capitalist economics and national development in Latin America."
"This book is a masterpiece that should be read by those interested in the history of Argentina and in real political economy with a historical perspective."
"Future scholars will find it difficult to analyze the political and economic world of Argentina in the conflictive thirty years between 1946 and 1976 without consulting this book."
In mid-twentieth-century Latin America there was a strong consensus between Left and Right—Communists working under the directives of the Third International, nationalists within the military interested in fostering industrialization, and populists—about the need to break away from the colonial legacies of the past and to escape from the constraints of the international capitalist system. Even though they disagreed about the desired end state, Argentines of all political stripes could agree on the need for economic independence and national sovereignty, which would be brought about through the efforts of a national bourgeoisie.
James Brennan and Marcelo Rougier aim to provide a political history of this national bourgeoisie in this book. Deploying an eclectic methodology combining aspects of the "new institutionalism," the "new economic history," Marxist political economy, and deep research in numerous, rarely consulted archives into what they dub the "new business history," the authors offer the first thorough, empirically based history of the national bourgeoisie's peak association, the Confederación General Económica (CGE), and of the Argentine bourgeoisie's relationship with the state.
They also investigate the relationship of the bourgeoisie to Perón and the Peronist movement by studying the history of one industrial sector, the metalworking industry, and two regional economies—one primarily industrial, Córdoba, and another mostly agrarian, Chaco—with some attention to a third, Tucumán, a cane-cultivating and sugar-refining region sharing some features of both. While spanning three decades, the book concentrates most on the years of Peronist government, 1946–55 and 1973–76.
Contents
Preface
Introduction
1. The Political Economy of Populist Argentina, 1943–1976
2. Industrialists and Bolicheros in the Origins of Peronism
3. Peronist Economic and Industrial Policy, 1944–1955
4. Industrial Support for Perón: The Cámara Argentina de Industrias Metalúrgicas
5. The Confederación General Económica and the "Organized Community"
6. The "National Bourgeoisie" in Opposition: From the Revolución Libertadora to the Revolución Argentina
7. Conflict and Crisis in the Metalworking Industries
8. Peronist Economic and Industrial Policies in the 1970s
9. The National Bourgeoisie in Power: Provincial Dynamics and the Fall of National Capitalism
Final Reflections
Bibliography
Index
Other Ways to Acquire
Buy from Amazon.com

Buy from an Independent Bookstore
Buy from Powell's Books
Buy from Barnes and Noble.com
Find in a Library
Get the
Kobo Edition
Get the
Kindle Edition
Get the
iBook Edition
Join
Sign up for e-mail notifications about new books and catalogs!
Related Subjects
Also of Interest
Updated and Revised Edition