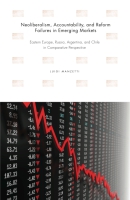 Neoliberalism, Accountability, and Reform Failures in Emerging Markets
Eastern Europe, Russia, Argentina, and Chile in Comparative Perspective
Copyright: 2009
Dimensions: 6 x 9
Page Count: 312 pages
Hardcover ISBN: 978-0-271-03574-1
Paperback ISBN: 978-0-271-05964-8
Hardcover Edition: $61.95
Paperback Edition: $30.95
"This book, exceptionally well written and well documented, maps the causes and consequences of the Washington Consensus, calculating the costs imposed where it was implemented."
"This volume explores important questions about the relationship between democracy and economic crises. Specifically, Manzetti asks how institutions of accountability may produce less corruption, more open markets, and better governance, and, therefore, ultimately lead to greater economic stability. The book offers convincing empirical evidence in favor of this thesis and against alternative arguments that either disregard politics or view democracy as an obstacle to good economics."
"At a time when the connections among politics, governments, and markets are more urgent concerns than ever before, Manzetti guides us through hotly contested terrain with confidence, displaying both a comprehensive view of the big picture and a keen eye for detail. He reaches beyond the usual generalizations about neoliberalism and democracy to examine the opportunities and constraints shaping behavior at many levels. We are reminded, even as government's role in the economy changes, that those in charge will search for ways to govern—to build political support and use it—employing the incentives and institutional forces at hand. Manzetti's emphasis on the value of democratic political processes is a welcome corrective to the notion that unfettered markets are wholly self-regulating or amount to a kind of private substitute for governance. Carefully chosen, detailed case studies both illustrate those broader arguments and show the necessity of understanding how politics and liberalized markets function in real, rather than just ideal, settings. Manzetti's book will be both useful and provocative for analysts and policymakers alike."
The agenda of neoliberal market reform known as the Washington Consensus, which was meant to turn around the economies of developing and postcommunist countries and provide the bedrock of economic success on which stable democracies could be built, has largely proved to be a failure, with Russia and many Latin American countries like Argentina left in severe economic crisis by the end of the 1990s.
Some proponents of neoliberal reform, such as Anne Krueger, have attributed this failure to the piecemeal and incomplete implementation of reform measures, while others, including Nobel Prize economist and former World Bank vice president Joseph Stiglitz, have pointed to technical flaws in the policies. While both of these assessments focus narrowly on economic factors, Luigi Manzetti highlights the crucial importance of political institutions and processes to a fully adequate explanation. His argument is that the ideology of neoliberal reform, rooted in the theories of Friedrich von Hayek and Milton Friedman, assumed political checks and balances that did not exist in many of these countries undergoing market reform, and that only by taking political accountability as an influential variable in the equation for success can we really understand what happened. Where accountability was weak, patterns of corruption, collusion, and patronage worked to undermine the intended aims of market reform. Manzetti uses both large N statistical analyses and small N case studies (of Argentina, Chile, and Russia) to provide empirical evidence for his argument.
Contents
Preface
1. Accountability and Market Reforms
2. Financial Crises in Comparative Perspective
3. Russia
4. Argentina
5. Chile
6. Conclusion
References
Index
Figures and tables are grouped at the ends of chapters 2, 3, 4, and 6.
Other Ways to Acquire
Buy from Amazon.com

Buy from an Independent Bookstore
Buy from Powell's Books
Buy from Barnes and Noble.com
Find in a Library
Get the
Kobo Edition
Get the
Kindle Edition
Get the
iBook Edition
Join
Sign up for e-mail notifications about new books and catalogs!
Related Subjects
Also of Interest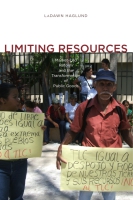 Market-Led Reform and the Transformation of Public Goods
Inequality and the Politics of Redistribution in Latin America