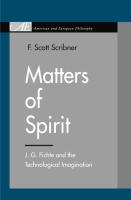 Matters of Spirit
J. G. Fichte and the Technological Imagination
Copyright: 2010
Dimensions: 6 x 9
Page Count: 216 pages
Hardcover ISBN: 978-0-271-03621-2
Paperback ISBN: 978-0-271-03475-1
Series Name: American and European Philosophy
Hardcover Edition: $61.95
Paperback Edition: $29.95
"In recent years our appreciation of the post-Kantian legacy has continued to evolve, and the standard account of thinkers like Fichte and Schelling has been found wanting. Scribner's text is a very important addition to the Fichte renaissance and a fine work of thinking in its own right."
"Scribner breaks new ground in German idealism. He argues that Fichte was led, in attempting a posttranscendental, empirical proof of idealism, toward hypnosis, as discussed in his nearly unknown 'Diary of Animal Magnetism.'"
"Matters of Spirit proposes a radically new and potentially revolutionary interpretation, not just of Fichte's philosophical project but of German idealism as a whole, and makes a strong case for reexamining prevailing views of the same. Many will be surprised and taken aback by the material unearthed and investigated by Scribner, but those interested in post-Kantian philosophy owe it to themselves to become acquainted with this largely forgotten and neglected side of the history of German idealism and the efforts of some of its leading proponents to find 'empirical' evidence for spirit. Scott Scribner is unquestionably one of the most original authors writing today, in any language, about Fichte and early German idealism."
"Scribner presents a compelling interpretation of Fichte's philosophical development, one that is sensitive both to internal tensions in Fichte's philosophy and to the historical emergence of materialism. Because of this, Matters of Spirit is sure to become standard reading among scholars of German idealism."
"Scribner's accomplishment in this book is important and original. He has an impressive knowledge of the entirety of Fichte's philosophy, and of the relevance of Fichte's thought to later developments in nineteenth- and twentieth-century continental philosophy. He has made a complex, compelling, and challenging case for reading Fichte's thought in general, and in particular Fichte's thought about the centrality of the imagination, in light of later philosophical worries about the technologization of the imagination. . . . there can be little doubt that Scribner has provided us with an illuminating and original account that does justice to the broad outlines of Fichte's philosophy, and at the same time demonstrates Fichte's lasting relevance for us today."
"F. Scott Scribner's Matters of Spirit presents a provocative argument."
This book offers a radically new interpretation of the entire philosophy of J. G. Fichte by showing the impact of nineteenth-century psychological techniques and technologies on the formation of his theory of the imagination—the very centerpiece of his philosophical system. By situating Fichte's philosophy within the context of nineteenth-century German science and culture, the book establishes a new genealogy, one that shows the extent to which German idealism's transcendental account of the social remains dependent upon the scientific origins of psychoanalysis in the material techniques of Mesmerism. The book makes it clear that the rational, transcendental account of spirit, imagination, and the social has its source in the psychological phenomena of affective rapport. Specifically, the imagination undergoes a double displacement in which it is ultimately subject to external influence, the influence of a material technique, or, in short, a technology.
Contents
Acknowledgments
Abbreviations
Introduction
1. An Introduction to the Crisis of Spirit: Technology and the Fichtean Imagination
2. Technology and Truth: Representation and the Problem of the Third Term
3. Spirit and the Technology of the Letter
4. The Spatial Imagination: Affect, Image, and the Critique of Representational Consciousness
5. Subtle Matter and the Ground of Intersubjectivity
6. The Aesthetic of Influence
7. The First Displacement: From Subjectivity to Being
8. The Second Displacement: From a Metaphysical to a Technological Imagination
Bibliography
Index
Other Ways to Acquire
Buy from Amazon.com

Buy from an Independent Bookstore
Buy from Powell's Books
Buy from Barnes and Noble.com
Find in a Library
Get the
Kobo Edition
Get the
Kindle Edition
Get the
iBook Edition
Join
Sign up for e-mail notifications about new books and catalogs!
Related Subjects