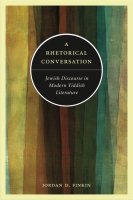 A Rhetorical Conversation
Jewish Discourse in Modern Yiddish Literature
Copyright: 2010
Dimensions: 6 x 9
Page Count: 216 pages
Illustrations: 2 illustrations
Hardcover ISBN: 978-0-271-03630-4
"In this brilliant new book, Jordan Finkin illuminates with great flair and precision the many ways in which Talmudic discourse has shaped Yiddish language and literature, from the smallest peculiarities of Yiddish syntax to its largest cultural and discursive formations—the orchestrated associative digressions, the argumentative style, the entire cultural world known as 'derekh hashas,' the way of the Talmud."
"A fascinating and engaging study that combines rigorous linguistic analysis with deft literary interpretation. By excavating the layers of Talmudic, biblical, and vernacular discourse within modern Yiddish literature, Jordan Finkin offers a compelling way of understanding the unique expressive qualities of this body of work. Through a series of persuasive readings of key figures such as Sholem Aleykhem, I. L. Perets, and Moyshe-Leyb Halpern, the book demonstrates the embeddedness of Yiddish writing in the textual origins of rabbinic Judaism without minimizing the originality, playfulness, and ironic force of these modern writers."
"A learned, sophisticated, and smart book. Its exploration of the complex interrelationship between elite conversational discourse and its transition and transformation in the mouths, minds, and words of others is vital for a more nuanced understanding of Yiddish, its speakers, and its writers."
This book is about Jewish language. The fact that Jews speak and write in distinctive ways is well known. (The journalist Mike Royko called it "Hebonics.") These forms of expression actually draw from many sources and have been employed in popular culture from Henry Roth's Call It Sleep to the novels of Saul Bellow to contemporary television. What has received less attention is what allowed these modern forms to flow from a rich body of Yiddish literature. This book fills that gap by exploring the language of modern Yiddish literature, addressing emblematically why Jews answer a question with a question. Through a series of case studies, A Rhetorical Conversation explores various distinctive aspects of Yiddish literature to explain the nature and importance of Jewish discourse: the way of speaking, writing, arguing, and thinking developed by Yiddish culture based on prolonged and intimate contact with traditional texts.
Contents
Acknowledgments
Introduction
1. The Case of the Tautological Infinitive
2. The Language of Jewish Discourse
3. Jewish Discourse and Modern Yiddish Poetry
4. Conversational Orchestration in the Tsenerene and Sholem Aleykhem
5. Y. L. Perets's Conversational Art in Yiddish and Hebrew
Coda
Notes
Bibliography
Index
Other Ways to Acquire
Buy from Amazon.com

Buy from an Independent Bookstore
Buy from Powell's Books
Buy from Barnes and Noble.com
Find in a Library
Get the
Google Play Edition
Join
Sign up for e-mail notifications about new books and catalogs!
Related Subjects
Also of Interest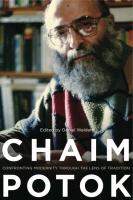 Confronting Modernity Through the Lens of Tradition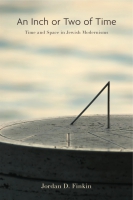 Time and Space in Jewish Modernisms