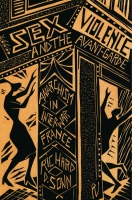 Sex, Violence, and the Avant-Garde
Anarchism in Interwar France
Copyright: 2010
Dimensions: 6 x 9
Page Count: 272 pages
Illustrations: 5 illustrations
Hardcover ISBN: 978-0-271-03663-2
Paperback ISBN: 978-0-271-03664-9
"In sharp contrast to the anarchists of Spain, French anarchists seem to have disappeared during the interwar period. Or did they? In this compelling book, Richard Sonn examines fascinating, complex cultural themes and takes us into the lives of figures such as André Breton, Robert Desnos, Manuel Devaldès, and Eugène and Jeanne Humbert as they confronted the aftermath of the Russian Revolution, the rise of fascism, continued French depopulation, and the politics of sexuality and of eugenics."
"Sex, Violence, and the Avant-Garde is a fascinating work that will make an important contribution to studies of anarchism, politics, violence, immigration, and sexuality. Richard Sonn demonstrates that the anarchists were not a fringe group but were visible and significant in the arts, politics, and the causes célèbres of the interwar period. Furthermore, Sonn provides a refreshing new look at the relationship between gender and violence. Sonn's breadth of vision goes beyond French anarchism to include Russian and American anarchists, analyzing their impact on their French cohort."
"In this continuation of his study of French anarchism, Richard Sonn demonstrates persuasively that anarchism as theory and practice survived in some of its characteristic forms throughout the 1920s and '30s and later provided a remote but genuine inspiration for the radical and personal experiments of the 1960s. His history is a series of lively portraits of the declining fortunes or tragic failures of individual anarchists whose efforts to reform or destabilize the social and political order ranged from aesthetic experiments and eugenics to schemes for transforming human sexuality and gender."
"I am aware of no fuller treatment of French interwar anarchism than Richard Sonn's Sex, Violence, and the Avant-Garde. In addition to providing a rich examination of anarchism's engagement with the politics of sexuality and the body, it demonstrates how important the movement was to surrealism as well."
"Sex, Violence, and the Avant-Garde is an illuminating study, the eclectic nature of which seems to reflect the individualism so prevalent in the interwar anarchist movement and the personal liberties its followers held dear."
By the end of World War I, the conflict between anarchism and the state had largely been eclipsed by the competing forces of liberalism, fascism, and communism. To combat their slide into irrelevance, French anarchists, especially those called individualists, redirected their attentions from violent revolution and general strikes to ethical issues that focused on personal liberation. Chief among these issues was sexual freedom, sought not only for the sake of pleasure but also to undermine the authoritarian family, bulwark of the patriarchal state. In this revelatory book, Richard Sonn approaches the French anarchist movement during this period from a sociocultural perspective, considering the relationships among anarchism and the artistic avant-garde and surrealism, political violence and terrorism, sexuality and sexual politics, and gender roles. He shows that, contrary to popular belief, anarchism in theory and practice played a significant role in the culture of interwar France.
Contents
Acknowledgments
Introduction: French Anarchism in the Interwar Era: Decline or Renewal?
Part I: Anarchist Bodies
1. Gender and Political Violence: The Case of Germaine Berton
2. The Bad Father and the Prodigal Son: The Death of Philippe Daudet
3. Anarchism and the Avant-Garde
4. Utopian Bodies: Anarchist Sexual Politics
5. "Your Body Is Yours": Anarchism, Birth Control, and Eugenics
Part II: French Anarchists Between East and West
6. Facing East: Russians and Jews
7. Facing West: American Heroes
8. Renegades
Epilogue: The Renewal of Anarchism
Notes
Bibliography
Index
Other Ways to Acquire
Buy from Amazon.com

Buy from an Independent Bookstore
Buy from Powell's Books
Buy from Barnes and Noble.com
Find in a Library
Join
Sign up for e-mail notifications about new books and catalogs!
Related Subjects
Also of Interest