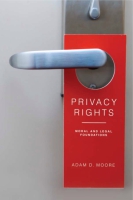 Privacy Rights
Moral and Legal Foundations
Copyright: 2010
Dimensions: 6 x 9
Page Count: 248 pages
Hardcover ISBN: 978-0-271-03685-4
Paperback ISBN: 978-0-271-03686-1
Hardcover Edition: $72.95
Paperback Edition: $29.95
"Privacy Rights is a significant contribution to the literature because it links the theory of privacy defended with other established views in the literature, but goes beyond that and adds new arguments and justifications. In the book, Adam Moore provides a novel endorsement of the value of privacy and privacy rights and a focus on contemporary issues surrounding informational privacy and the conflict between privacy and security, especially in the light of 9/11."
"Advocates of privacy should welcome Adam Moore's engaging defense of privacy rights, and in particular his iconoclastic challenge to the prevailing view that privacy is fine so long as it does not impinge on free speech. . . . [He provides] tools, in the form of principles, arguments, and examples, to help us rigorously put our intuitions about privacy to the test."
We all know that Google stores huge amounts of information about everyone who uses its search tools, that Amazon can recommend new books to us based on our past purchases, and that the U.S. government engaged in many data-mining activities during the Bush administration to acquire information about us, including involving telecommunications companies in monitoring our phone calls (currently the subject of a bill in Congress). Control over access to our bodies and to special places, like our homes, has traditionally been the focus of concerns about privacy, but access to information about us is raising new challenges for those anxious to protect our privacy. In Privacy Rights, Adam Moore adds informational privacy to physical and spatial privacy as fundamental to developing a general theory of privacy that is well grounded morally and legally.
Other Ways to Acquire
Buy from Amazon.com

Buy from an Independent Bookstore
Buy from Powell's Books
Buy from Barnes and Noble.com
Find in a Library
Get the
Kobo Edition
Get the
Kindle Edition
Get the
iBook Edition
Join
Sign up for e-mail notifications about new books and catalogs!
Related Subjects