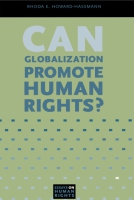 Can Globalization Promote Human Rights?
Copyright: 2010
Dimensions: 5.5 x 8.5
Page Count: 200 pages
Hardcover ISBN: 978-0-271-03739-4
Paperback ISBN: 978-0-271-03691-5
Series Name: Essays on Human Rights
Hardcover Edition: $61.95
Paperback Edition: $24.95
"This is a book which, in the words of Paul Collier, can help 'citizens of the rich world . . . take responsibility for their own ignorance about trade policy' without capitulating to the simplicities of neoliberalism. It refuses to discuss human rights in an economic vacuum, but neither does it advocate forswearing them in the name of economic growth. Masterly in its use of evidence, careful and balanced in argument, this book is essential reading for anyone who is suspicious of the too-easy moral rectitude of some of globalization's 'radical' critics, but who still prioritizes human rights in all circumstances and wants the rest of the world to do so too."
Globalization has affected everyone's lives, and the reactions to it have been mixed. Legal scholars and political scientists tend to emphasize its harmful aspects, while economists tend to emphasize its benefits. Those concerned about human rights have more often been among the critics than among the supporters of globalization. In Can Globalization Promote Human Rights? Rhoda Howard-Hassmann presents a balanced account of the negative and positive features of globalization in relation to human rights, in both their economic and civil/political dimensions.
On the positive side, she draws on substantial empirical work to show that globalization has significantly reduced world poverty levels, even while, on the negative side, it has exacerbated economic inequality across and within countries. Ultimately, she argues, social action and political decision making will determine whether the positive effects of globalization outweigh the negatives. And, in contrast to those who prefer either schemes for redistributing wealth on moral grounds or authoritarian socialist approaches, she makes the case for social democracy as the best political system for the protection of all human rights, civil and political as well as economic.
Contents
Acknowledgments
Acronyms
1. Human Rights and Globalization
2. Globalization, Poverty, and Inequality
3. Global Neoliberalism
4. A Positive Model
5. Negative Models
6. Global Human Rights Governance
7. Civil Society
8. The Politics of Resentment
9. The Primacy of Politics
References
Index