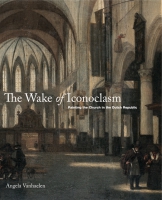 The Wake of Iconoclasm
Painting the Church in the Dutch Republic
Copyright: 2012
Dimensions: 8 x 10
Page Count: 232 pages
Illustrations: 27 color/29 b&w illustrations
Hardcover ISBN: 978-0-271-05061-4
The Wake of Iconoclasm: Painting the Church in the Dutch Republic is the winner of the 2013 Roland H. Bainton Book Prize awarded by the international Sixteenth Century Society and Conference for the best book written in English dealing with Art and Music History within the time frame of 1450-1660.
"This book is a significant contribution to the field of Dutch art and religious culture. Angela Vanhaelen looks closely and with fresh eyes at the images of Dutch church interiors, and with the close observation of each detail, their architectural spaces and church-attending inhabitants come alive to the reader."
"Seventeenth-century Dutch church paintings have been the subject of much art-historical inquiry, and this handsomely produced volume makes a valuable contribution to the discussion. . . . Vanhaelen, a recognized specialist in this area, explores the connection between church paintings and contemporary religious thought—not just Calvinism, but also Roman Catholicism and even Islam. She brings out the significance of the works' beautiful whitewashed walls; graffiti on those walls; the power of the word and the book; the political overtones of the invasion by Louis XIV and the reconsecration of the Utrecht cathedral; and the implications of the common theme of the open grave in church floors, among much else. The book includes over 50 fine illustrations (most in color), excellent footnotes, and a full bibliography."
"The Wake of Iconoclasm: Painting the Church in the Dutch Republic . . . tacks a high-stakes course for the pictorial repercussions of iconoclasm: in place of the triumphant confidence, joy, even pink-cheeked bluster we have come to expect of Dutch art, Vanhaelen gives us a church interior–based realism founded on the volatile ambivalence of an age of anxiety beneath the sunny veneer of convivial charm."
In describing the seventeenth-century Dutch Republic, Johan Huizinga said, "Paintings could be found everywhere . . . everywhere except in churches." Although pictures were ubiquitous in the Dutch world, the official religion expressed a fundamental distrust of visual imagery. Indeed, Calvinism and visual culture were both central modes of self-understanding in Dutch society. Investigating this paradox, The Wake of Iconoclasm takes as its main subject the numerous paintings of austere Calvinist church interiors that proliferated in the seventeenth century. Painstakingly crafted and highly naturalistic images of interiors, these peculiar paintings show spaces that were purged of visual imagery during and after the iconoclast riots of the sixteenth century. In essence, they depict the interface of the histories of art and religion. Angela Vanhaelen argues that the main function of this imagery was to stimulate debate about the transformed role of art in relation to the religious and political upheavals of the Reformation and the Dutch Revolt. Paintings of the emptied churches allowed their beholders to grapple with the significant public influence of Calvinism—especially its suppression of past cultural traditions and the new conditions of possibility it created for the visual arts.
Contents
Acknowledgments
List of Illustrations
Introduction
Part 1: Painting the Church
1 Time-Stained Walls
2 The Forbidden Image
Part 2: The Transformation of Public Space
3 The Contradictions of Church
4 Monumental Space: Reforming the Body Politic
Part 3: The Work of Mourning
5 Unresolved Histories
6 Death and Dutch Art
Notes
Bibliography
Index