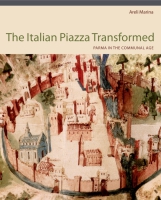 The Italian Piazza Transformed
Parma in the Communal Age
Copyright: 2012
Dimensions: 8 x 10
Page Count: 192 pages
Illustrations: 102 color/7 b&w illustrations
Hardcover ISBN: 978-0-271-05070-6
Hardcover Edition: $93.95
The Italian Piazza Transformed is the winner of the 2013 Howard R. Marraro prize for the best work in Italian Catholic history from the American Catholic Historical Association.
"There is no doubt that this is a significant contribution to the field . . . an exemplary presentation of extremely complex historical processes. The scholarship is formidable."
"[The Italian Piazza Transformed] has value on many levels. First, the story of the development of these piazzas is well told, and is supported by clear, abundant diagrams and photographs. One can begin to visualize the evolving spatial order. Second, the lessons that can be drawn from this story are important ones for cities in Italy in the coming centuries and in some ways for all cities across time. Through the discussions of the way the development of these piazzas related to the emerging ecclesiastical and communal roles, one can begin to understand how political power and social values relate to urban space. Third, the book describes and exemplifies first-rate scholarship. The text describes the methodologies and challenges of historical inquiry. The book contains excellent, informative appendixes, extensive and enriching notes, a thorough bibliography, and a detailed index. Given its various assets, this volume should appeal to scholars in various fields, and should find a welcome place in many academic libraries."
"The Italian Piazza Transformed makes an extremely valuable empirical advance in Italian urban studies. Marina's careful reconstruction, through historical texts and site surveys, of the development of . . . important Parmesan sites places their study on new foundations. She also offers a model of how open space in an urban fabric can be rigorously studied. One can only hope others will follow the stimulating lead Marina pioneers in this book."
"Marina's highly developed method of processing, analyzing, and organizing disparate spatial, historical, and representational systems not only makes an important contribution to contemporary debates about urban design, but would also have been immediately recognized and greatly appreciated by her medieval forebears."
During the long thirteenth century, the cities of northern Italy engendered a vital and distinctive civic culture despite constant political upheaval. In The Italian Piazza Transformed, Areli Marina examines the radical transformation of Parma's urban center in this tumultuous period by reconstructing the city's two most significant public spaces: its cathedral and communal squares. Treating the space of these piazzas as attentively as the buildings that shape their perimeters, she documents and discusses the evolution of each site from 1196, tracing their construction by opposing political factions within the city's ruling elite. By the early fourteenth century, Parma's patrons and builders had imposed strict geometric order on formerly inchoate sites, achieving a formal coherence attained by few other cities.
Moreover, Marina establishes that the piazzas' orderly contours, dramatic open spaces, and monumental buildings were more than grand backdrops to civic ritual. Parma's squares were also agents in the production of the city-state's mechanisms of control. They deployed brick, marble, and mortar according to both ancient Roman and contemporary courtly modes to create a physical embodiment of the modern, syncretic authority of the city's leaders. By weaving together traditional formal and iconographic approaches with newer concepts of the symbolic, social, and political meanings of urban space, Marina reframes the complex relationship between late medieval Italy's civic culture and the carefully crafted piazzas from which it emerged.
Contents
List of Illustrations
Acknowledgments
Abbreviations
About the Reconstruction Diagrams
Introduction
Part I: The Production of Order
1 (Re)constructing the Piazza del Duomo
2 (Re)constructing the Communal Piazza
Part II: The Piazza and Public Life
3 The Legislation of Order
4 The Eloquent Piazza
Epilogue: Parma's Spatial Practice Compared
Appendixes
I: On Measurement, Module, and Geometry in Medieval Parma
II: The Communal Buildings of Parma: Evidence and Interpretation
III: Salimbene de Adam's Account of Parma's Late Thirteenth-Century Architectural Projects
Notes
Bibliography
Index