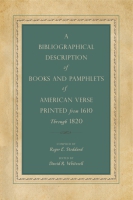 A Bibliographical Description of Books and Pamphlets of American Verse Printed from 1610 Through 1820
Hardcover Edition: $186.95
Paperback Edition: $149.95
Roger E. Stoddard and David R. Whitesell's A Bibliographical Description of Books and Pamphlets of American Verse Printed from 1610 through 1820 is the winner of the eighth Modern Language Association Prize for a Bibliography, Archive, or Digital Project.
"This important, indeed groundbreaking, work promises to contribute immensely to our understanding of both early American literary culture and the history of American publishing and printing, while also opening up many avenues for fruitful future research. The result of a lifetime of work by Roger Stoddard, bookman extraordinaire, and diligently edited by David Whitesell, this bibliography provides a definitive record of the canon of early American poetry with detailed descriptions, many discoveries and new attributions, and extensive listings of holdings."
"This descriptive bibliography stands as a landmark of bibliographical scholarship related to early American imprints of verse."
"This book is an outstanding scholarly achievement, the work of a scholarly lifetime to which students of early American poetry will be indebted for generations to come. Its meticulous research is judiciously assembled and framed so as to guarantee maximum ease of access to the more than one thousand works described."
"This volume demonstrates to glorious effect what scrupulous bibliography can bring to literary history and critical evaluation. . . . Stoddard's great achievement here is to encourage further scholarship on the appreciation of the poetry of early America all over the world, and not just in English."
"This is a landmark contribution to early American bibliography, a must for all libraries with an interest in literature, Americana, or bibliography."
The culmination of five decades of research, this monumental work of descriptive bibliography, containing entries for more than 1,300 editions, assembles by date of printing the corpus of poetry composed and printed in the United States of America in books and pamphlets up through 1820. It also includes a revised version of Roger Stoddard's seminal essay "Poet and Printer in Colonial and Federal America: Some Bibliographical Perspectives," which explores the production of poetry in American culture from the colonial period to the early days of the American Republic. Enhancing access to this rich source of information are eight indexes: place of publication, printers and publishers, artists and engravers, signed or attributed bookbindings, dedicatees, provenance, subject, and author/title. This work is published for the Bibliographical Society of America by The Pennsylvania State University Press.
Contents
List of Illustrations
Preface
Acknowledgments
Poet and Printer in Colonial and Federal America: Some Bibliographical Perspectives
Some General Statistics
Dedications
Subscriptions
Recitations
Popular Texts
Publishers' Bindings in Paper
Illustrations
Introduction to the Bibliography
Parts of the Entry
Abbreviations
Bibliographical Citations
Location Symbols
Conspectus of the Bibliography
The Bibliography
The Indexes
Index of Place of Publication
Index of Printers and Publishers
Index of Artists and Engravers
Index of Bookbindings Signed or Attributed
Index of Dedicatees
Provenance Index
Subject Index
Author and Title Index