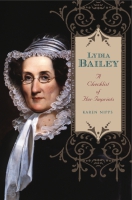 Lydia Bailey
A Checklist of Her Imprints
Copyright: 2012
Dimensions: 6 x 9
Page Count: 328 pages
Illustrations: 1 color/10 b&w illustrations
Hardcover ISBN: 978-0-271-05571-8
Paperback ISBN: 978-0-271-05572-5
Series Name: Penn State Series in the History of the Book
Co-publisher: The Bibliographical Society of America
Hardcover Edition: $82.95
Paperback Edition: $39.95
Published by The Pennsylvania State University Press for the Bibliographical Society of America in association with the Houghton Library, Harvard University, and the Library Company of Philadelphia.
"Karen Nipps has made a substantial contribution to early American bibliography and printing history with Lydia Bailey: A Checklist of Her Imprints. This is, so far as I know, the largest checklist of any nineteenth-century American printer's output and the only one covering such a long span of time. More than most bibliographies, it is both a work of scholarship and an incitement to more scholarship."
"Karen Nipps's useful checklist of Lydia Bailey's imprints and her perceptive account of Bailey's business methods provide a valuable glimpse into the inner workings of the Philadelphia book trade at the peak of its prosperity."
"In this study, Karen Nipps draws together a remarkable amount of information about the life and work of Lydia R. Bailey, a job and contract printer in Philadelphia during the early years of the United States. The picture of Bailey's career that emerges goes a long way toward enriching our understanding of the early American book trades in all their variety."
"Philadelphia is a city of printers and publishers, from Benjamin Franklin to J. B. Lippincott, but until the publication of this fine checklist and perceptive essay, we have lacked a serious study of the woman who served as the city printer from 1813 until the mid-1850s."
Little known today, Lydia Bailey was a leading printer in Philadelphia for decades. Her career began in 1808—when her husband, Robert, died, leaving her with the family business to manage—and ended in 1861, when she retired at the age of eighty-two. During her career, she operated a shop that at its height had more than forty employees, acted as city printer for over thirty years, and produced almost a thousand imprints bearing her name. Not surprisingly, sources reveal that she was closely associated with many of her now better-known contemporaries both in the book trade and beyond, people like her father-in-law, Francis Bailey; Mathew Carey; Philip Freneau; and Harriet Livermore. Through a detailed examination and analysis of various sources, Karen Nipps portrays Bailey's experience within the context of her social, political, religious, and book environments.
Lydia Bailey is the first monograph on a woman printer during the handpress period. It consists of a historical essay detailing Bailey's life and analyzing her role in the contemporary book trade, followed by a checklist of her known imprints. In addition, appendixes offer further statistical information on the activities of her shop. Together, these provide rich material for other book historians as well as for historians of the early Republic, gender, and technology.
Contents
List of Figures
Acknowledgments
Lydia Bailey – Mistress of Her Situation
Setting the Stage
The Early Years
The Trade
Patronage
Her Way
Checklist of Lydia Bailey Imprints
Methodology
Forms
Bibliographies Cited
Abbreviations and Location Symbols
The Checklist
Appendices
1. Unlocated Imprints
2. Bailey's Journal
3. Names from Journal
4. Primary Material Relating to Lydia Bailey
Index